Celebrity News and Gossip
May
20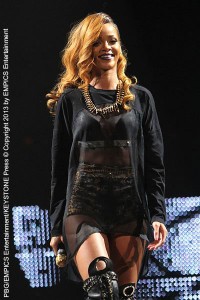 After eight months of negotiations with UK fashion chain, Topshop, Rihanna has decided to sue the company $5 million for selling t-shirts with her image on it without permission. According to the New York Post, a source reported that Rihanna's team asked the fashion chain several times to stop selling the product. However, the owner, billionaire Sir Philip Green refused. "[Topshop's owners] buy the pictures from a photographer, but they do not pay the artist licensing fees. Unfortunately, U.K. law does not protect the artist," the source said. Despite the disagreements between both parties, Rihanna is determined to indict the company. The singer believes it is a principle and wants to make a statement. "What is most offensive for Rihanna is that they basically told her, 'Go to hell. We don't care; we are going to continue selling you.' Read more
May
17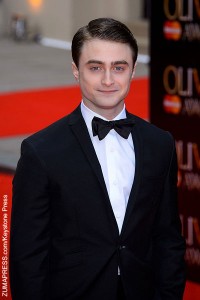 Daniel Radcliffe has definitely moved on from Harry Potter. For his upcoming movie, Kill Your Darlings, he shot a gay love scene. Radcliffe, who was coached through the experience by director John Krokidas, told tv host Graham Norton, "I was doing a gay sex scene and the director was giving step-by-step instructions. And the favourite note I have ever had was when we were kissing and the director shouted, 'Not like that. Crazy sex kissing!'" It was then that Radcliffe realized that he, like Potter co-star Emma Watson, was no longer making kids movies: "I spent ten years in a kids' franchise and that was definitely a moment of, 'Yes, I think I'm moving on.'" Read more
May
17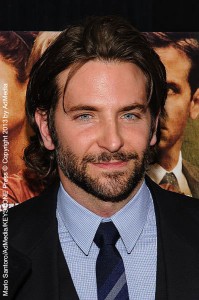 Bradley Cooper does not use his fortune on fancy cars or luxury homes but rather to help his friends get out of debt. The Hangover star expressed his thoughts on being famous to Britain's Daily Mirror. "You can't relate to having more money than you ever imagined or even know how to spend or invest. It's absolutely luxury, I know that. But I don't think I've let it affect the way I live or change how I think. I still live pretty much like a nomad in going from one film shoot to another." Feeling disoriented about his recent wealth, Bradley has made sure not to get carried away with being a celebrity. Read more
May
17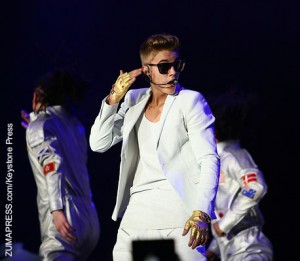 The clock is ticking for Justin Bieber. He has until midnight to take action to reclaim his pet monkey, Mally, from the animal shelter where the capuchin has been living since it was seized by German customs. If Justin does not contact the shelter within the time period given, Mally will be moved to a zoo or animal park in Germany. "If no further documents arrive then the seizure order comes into effect and the animal becomes the property of the German state," spokesman Thomas Meister told The Associated Press. The pop star is also expected to pay several thousand dollars for the extensive care Mally received while housed at the shelter including the cost of food, care and vet visits. Read more
May
17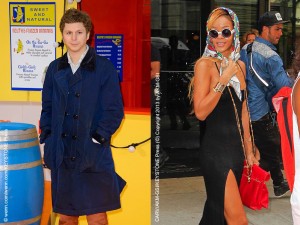 Canadian actor Michael Cera told the Press Association that he enjoyed being slapped by Rihanna in the upcoming movie This Is the End, in theatres June 12. The slap occurs near the beginning of the film after Cera gets a little too fresh with the singer. When asked about filming the slap, he admitted, "It was great. It was a nice way to get to know Rihanna, although I don't feel like I really got to know her at all." In classic Cera fashion, he also said, "She's wonderful. A wonderful amalgamation of a lady." In April, Seth Rogen told MTV that Rihanna actually slapped Cera at least six times, which was almost too much for the actor to take. Read more
May
17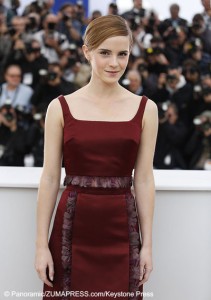 We've seen Emma Watson grow through her character, Hermione Granger, in the Harry Potter series.  However, Emma was never in a big rush to become a woman. In an exclusive interview with People, she said, "I've never wanted to grow up too fast. I wanted to wear a sports bra until I was 22!" she added, "The allure of being sexy never really held any excitement for me. I've never been in a terrible rush Read more
May
17
Patrick Dempsey would consider selling marijuana in his coffee shops. The
Grey's Anatomy
actor outbid competitors including Starbucks to buy Seattle based Tully's Coffee through his company Global Baristas LLC last year and admitted he thinks selling the drug would be a successful business model. He told BonAppetit.com: "Coffee is good for your mind--it's basically a legalized drug. The next step is selling marijuana, of course. There's a business model there. You could present it in a beautiful, elegant way: a Michelin-starred coffee shop where you can get marijuana."
Read more
May
17
Demi Moore wants Ashton Kutcher to pay for her home renovations. The 50-year-old actress and Ashton, 35, married in 2005 but are currently going through a bitter divorce and according to TMZ, Demi has insisted her ex pay to fix up her $25 million apartment in New York.  This comes after it was revealed the couple - who announced their split in November 2011 - are locked in a battle over $10 million, with Demi asking for the eight-figure sum due to Ashton's involvement in a venture capital fund worth $100 million. The
Two and a Half Men
star announced his new technology start-up investment firm A-Grade, which is a partnership with Madonna's manager Guy Oseary and billionaire Ron Burkle, earlier this month with an estimated value of $100 million and Demi believes she is entitled to a piece of the actor's newfound fortune.
Read more
May
16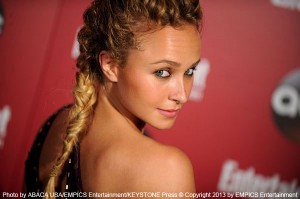 Heroes star Hayden Panettiere slept on a futon in a friend's Tennessee attic for the past month while waiting for news about the fate of her show, Nashville. The change of scenery doesn't seem to have affected her much and she's apparently enjoyed her stay in Tennessee - even if the show doesn't make it, she wants to stay close to the country music haven. She moved to the state to film the first season of the series, in which she plays a young country singer, Juliette Barnes. During filming, she rented a condo in Nashville in the same building as country singer Taylor Swift. With the show's first season wrapped up, Panettiere decided not to renew her lease and took up lodging at a gracious friend's house instead. Fortunately for the star, the show was renewed by ABC on Friday and she can now look for a new place to hang her hat. Onward to season 2 and apartment hunting! ~ Cassie Jasinski
May
16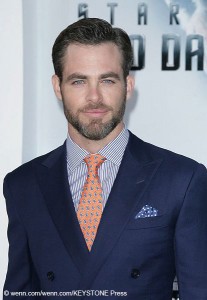 Just finishing up his role as Kirk in Star Trek Into Darkness, Chris Pine is getting ready to play an obnoxious prince – one that sings actually. Chris and Jake Gyllenhaal are in the early stages of negotiations to be cast in Rob Marshall's adaptation of the musical 'Into the Woods.'
The fairy tale story is about a baker and his wife's journey through the woods trying to find a witch that has cursed them. However, it is not a typical fairy tale as it has many twists with encounters of magical characters including Rapunzel, Cinderella and Little Red Riding Hood. Though there haven't been offers made quite yet, Chris and Jake are Read more