Jul
29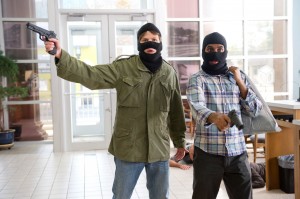 Jesse Eisenberg gets funny with the help of Aziz Ansari, Danny McBride and Nick Swarsdon in 30 Minutes or Less
Jesse Eisenberg doesn't seem like the kind of actor to pull of a comedy, but when you throw Aziz Ansari, Nick Swarsdon and Danny McBride in the mix, everything seems to gel perfectly.
In 30 Minutes Or Less, Eisenberg plays Nick, a small town pizza delivery guy whose mundane life collides with the big plans of two wanna-be criminal masterminds (McBride and Swardson). Nick finds himself in serious trouble when the idiotic duo kidnaps him and forces him to rob a bank. With mere hours to pull off the impossible task, Nick enlists the help of his ex-best friend, Chet (Ansari) to help his pull off the heist before they blow him up.
For Eisenberg who seamlessly steps into his first comedy, doing the movie—directed by his Zombieland director Ruben Fleischer—was a no-brainer. "It was just super funny and moved quick," Eisenberg said while in New York. "It had a nice balance between a dark comedy and a real action vibe. It's really rare to read a comedy like this that had interesting unique plots. These two regular guys, my character and Aziz's character are forced to rob a bank, these two lazy guys. [Ansari's] an elementary school teacher, I'm a pizza delivery guy. And I thought the comedy was genuinely funny."
"Everything started to come together," Ansari said. "[Then] I heard the guy who directed Zombieland Ruben Fleischer is going to direct it, Ben Stiller and Stuart Cornfeld are going to produce it, this guy's (points to Eisenberg) is going to be in it, Swardson's gonna be in it, McBride's gonna be in it, and I was like, I'm going to be in it!'"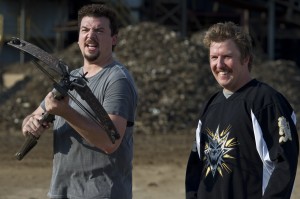 For comedians McBride and Swarsdon, not only was having Fleischer direct incentive enough to hop on board, but also the fact that they could take the level of their character's idiocy to new heights. "Danny and I are kind of crazy and we would improv so much that it would get kind of crazier and crazier," Swarsdon said. "Then he'd (Fleischer) have to be like, 'okay guys that's enough we got it.' It was almost like kids in a candy store just going crazy and the parents saying, 'alright settle down…dial it down.'" Adds McBride, "We got in trouble. We'd stay in character the whole time and we'd go around Grand Rapids [Michigan] and just blow things up saying, 'we're with the movie!'"
For Eisenberg who doesn't have a lot of comedic experience, McBride and Swarsdon had him covered. "The main tip for him was, 'just rob this bank in the time period or you're going to blow up,' you know?" quipped McBride. "I think Jesse's really funny and he's got good timing," Swarsdon said. "I think he's funnier than people give him credit for."
Eisenberg gives all the credit to his cast members and mainly the story for its comedic delivery. "My character is kind of the most dramatic. He has bomb strapped to him and is forced to rob a bank and for him he's in a really tense situation," Eisenberg said. "And the movie ends up being funny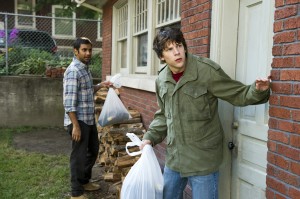 because the characters are taking the thing so seriously in the first place." - Toni-Marie Ippolito
30 Minutes Or Less opens August 12
Watch the 30 Minutes Or Less trailer
Click to watch interviews with Jesse Eisenberg and Aziz Ansari and Danny McBride and Nick Swarsdon.
Share this story:
You Might Also Like:
Comments