Oct
21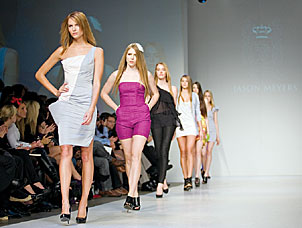 He may not have scooped the top prize during his stint on Project Runway Canada but being on the show has certainly helped Canadian designer Jason Meyers get noticed and up his game in the fashion biz. His 2010 Spring Collection was a refreshing collection inspired by a Katharine Hepburn film, and the designer delightfully opened the show with clips from the movie.
"I'm inspired by the 1955 Katherine Hepburn movie titled Summertime. My collection features my own fresh take on the styles that were worn in the movie," Meyers told the Toronto Sun. "There will be a combination of flowing and structured styles with construction that pays attention to shoulder details and shows how high fashion and architecture can walk hand in hand."
From a strapless purple jumper to a silver mini dress to cobalt blue cigarette pants, Meyers' collection included many pieces women everywhere can envision wearing. His color palette for spring included gray, soft blue, pink, silver, black and purple, as well as multi-colored vibrant prints.
—Toni-Marie Ippolito
Share this story:
You Might Also Like:
Comments