Celebrity News and Gossip
May
16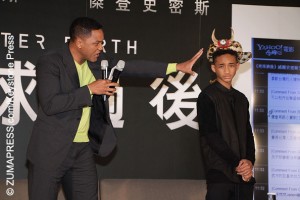 During an interview on Ellen, it was revealed that the story about Jaden Smith wanting to be emancipated from his parents was actually a joke made by his father, Will Smith. The young actor, rapper and dancer told her, "See, here's the thing you need to explain: I'm not going anywhere. The thing that people don't get is that everything at his [Will Smith's] house, is for free… So I think I'll be there for another 20, 30 more years." When asked how the rumor originated, Will Read more
May
16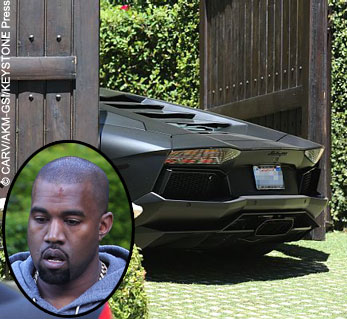 Kanye West is having a bad week. Last Friday he walked into a metal pole and wound up with a gash on his forehead (see video below), then started a fight with the paparazzi, and several days later his $750,000 Lamborghini was crushed when it was being dropped off at Kim Kardashian's house. Kanye was not in the car at the time; it was being returned by a driver following service at a shop but as it was being driven inside her compound Read more
May
16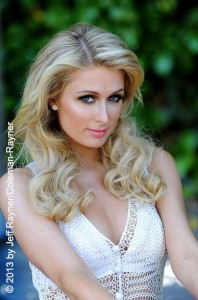 Paris Hilton has been keeping out of the public eye for a while and in an interview with The Sun newspaper, she revealed how a terrifying encounter with a stalker led her to withdraw from being a celebrity. Three years ago, Paris was awakened by the sound of banging on a downstairs window of her Los Angeles mansion. She went to check it out, only to discover a stranger holding two kitchen knives, demanding to be let inside. Thankfully her boyfriend, Cy Waits, was there and also heard the commotion. He grabbed his gun and went outside, where he forced the man to the ground and held him until police arrived. Now, Paris is reflecting on the event: "Seeing someone with such hate in their eyes – someone who wants to kill you – makes you question things, and it made me wonder about Read more
May
16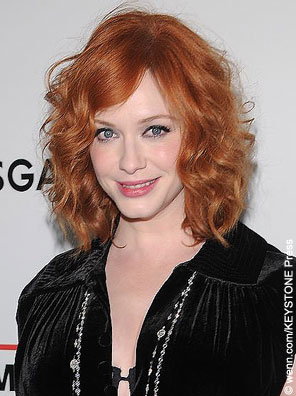 Christina Hendricks graces the cover of the June issue of Lucky magazine looking as gorgeous as ever, which is not surprising. What is surprising on the other hand, are some of the revelations she made to the magazine. She first talks of her early life plans, and how she never planned to be a star, saying, "I just thought I would work in a hair salon and do community theater." The Mad Men bombshell later revealed that she does not wear sweatpants - not even at home. The 38-year-old actress said, "I can't do that to my husband, not after just three years of marriage... At home, I put on a low-cut caftan, and he's like, 'Babe, you look great.' Caftans are just the perfect solution Read more
May
16
Christian Slater can't wait to get married this summer. The 43-year-old actor - who divorced his first wife Ryan Haddon in 2007 - is set to tie the knot with his long-time girlfriend Brittany Lopez in an intimate ceremony in their garden in July. The
Mind Games
star told People.com: "It will be good, intimate and small and family members. It will be nice." The couple hired a wedding planner to help them plan their special day but want to keep their nuptials small after throwing a huge engagement party. Christian explained, "Honestly, you gotta get a planner and do all that, but we will get it organized. We had a big engagement party on the 31st of December and it was nice, it was like New Year's and we had all the family come, 200 people, so it kind of already feels like we did the wedding, so we are just going to do a nice backyard situation."
Read more
May
16
Gwyneth Paltrow's $2,000 meet and greet in New York has sold out. The 'Iron Man 3' star - who recently released her second cook book, 'It's All Good' - launched an exclusive offer on Groupon.com on Tuesday, inviting 60 super fans to splash out on an "epic trip" to New York on June 14, during which she will give a private cooking class, and it sold out in less than 24 hours. As well as tickets to the 40-year-old actress's VIP event, the package also included a round-trip airfare from anywhere in the U.S. or Canada to New York, airport transfers, two nights at a Hilton hotel, spa treatments and dinner at a upmarket French restaurant in the city. Billed as an exclusive event for fans of her lifestyle blog goop.com, Gwyneth's promotional ad read: "You and a friend are invited to the private goop event, which begins at 6 p.m. on Friday, June 14. You can munch on appetizers and sip cocktails before goop editor-in-chief Gwyneth Paltrow gives a cooking demonstration. You'll leave with a signed cookbook.
Read more
May
16
Zoe Saldana is reportedly getting close to Italian artist Marco Perego. The 'Star Trek Into Darkness' star was reportedly spotted cosying up to the sculptor at a private party for the new sci-fi blockbuster in Los Angeles, California on Tuesday (05.14.13). A source told the New York Post newspaper: "They looked very close and were later seen kissing." Another source added: "Zoe and Marco have known each other for a while as friends. It's too early to say they are dating." The 34-year-old actress - who split from 'Silver Linings Playbook' actor Bradley Cooper last year - recently insisted she wouldn't date another movie star, but her new beau is said to have a striking resemblance to 'Pirates of the Caribbean' star Johnny Depp. Long-haired Marco has even been nicknamed "Pirate Perego" by pals because of his likeness to the star, including his shaggy long hair similar to Johnny's iconic character Captain Jack Sparrow. The artist is a former professional football player but after his career was cut short due to a leg injury, he tapped into his creative side and impressively sold a piece to fashion icon Giorgio Armani at his very first art show. Although she may be linked to a new man, 'Avatar' star Zoe recently confessed she might one day "end up with a woman raising my children, that's how androgynous I am!"
May
15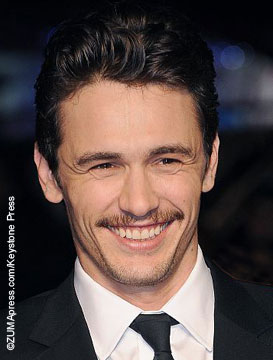 James Franco is a busy, in-demand demand. He's already starred in two movies this year - Oz The Great and Powerful and Spring Breakers - and will soon be back in theaters in The Iceman and This Is the End. Among the wealth of projects he's worked on in his career, there are sure to be a few bad apples - and Franco apparently isn't afraid to point them out. During a recent interview with GQ, he admitted, "Your Highness? That movie sucks. You can't get around that." It's an interesting comment, considering Franco wants to do a second Pineapple Express movie with Seth Rogen; both the vulgar comedy Your Highness and the first Pineapple Express were directed by David Gordon Green. Read more
May
15
Ashton Kutcher and Demi Moore - who announced their split in November 2011 - have yet to finalize their divorce as they are still in negotiations over a settlement, with Demi reportedly asking for an eight-figure sum due to Ashton's involvement in a venture capital fund worth $100 million. The
Two and a Half Men
star announced his new technology start-up investment firm A-Grade, which is a partnership with Madonna's manager Guy Oseary and billionaire Ron Burkle, earlier this month with an estimated value of $100 million and Demi believes she is entitled to a piece of the actor's newfound fortune. However, Ashton - who owns 20 per cent of the company - insists his profits from the company aren't communal as he made his millions after
Read more
May
15
Angelina Jolie's father thinks she is an "inspiration." Jon Voight is very proud of the 37-year-old actress for speaking out about her decision to undergo a preventative double mastectomy to dramatically decrease her risk of developing breast cancer, after she was identified as carrying the BRCA1 cancer gene, and believes she will make a big difference by going public about her surgery. The 74-year-old actor told E! News: "My love and admiration for her can never be measured in words. I think she is an inspiration to many people who are faced with the same situation. I think she is quite magnificent in the way she is handling this. She is taking care of things. She does careful diligence and she has this courage to
Read more