Celebrity News and Gossip
May
23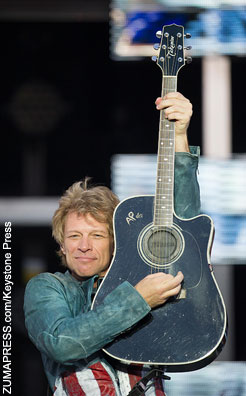 In an interview with London Evening Standard, Jon Bon Jovi lambasted Justin Bieber for being hours late for a concert at the O2 Arena in March. He said, "Every generation has guys that do that, none of that is new." He continued, "They run the risk of disrespecting their audience members who have worked hard to pay for their ticket, to give you the permission to take two or three hours of their lives - or in that kid's case, 80 minutes of their lives." Bon Jovi went on, "Do it once, you can be forgiven. Do it enough times and shame on you. They won't have you back. Then it just becomes a cliché. It's really not cool - you're an a-hole. Go to f-ing work!" Bon Jovi has been around for decades and has had great success along the way, so it would probably be a good idea for Justin to take his words to heart. The 19-year-old pop star was scheduled to go on stage at the O2 Arena in London at Read more
May
23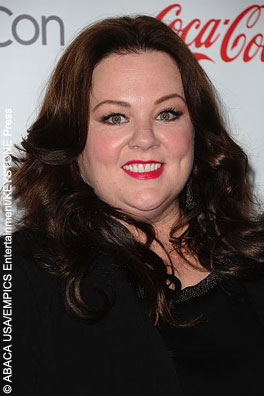 Bridesmaids star Melissa McCarthy, who is currently filming her new movie Tammy in Wilmington, North Carolina, had an interesting incident involving an extra this week. Melissa, who plays the title role, is also the co-writer and director, along with her husband and Bridesmaids love interest, Ben Falcone. According to TMZ, while filming was going on for a scene by a lake, a background performer in her twenties brought her young child, who was about five years old, on the set. The woman frequently disrupted the shoot by screaming at the child. Then, when that failed, in front of the entire crew - and in sight of McCarthy - the woman yanked the child into the air by the wrist. McCarthy, who has two young daughters, immediately had production assistants remove the woman, saying she wouldn't tolerate Read more
May
23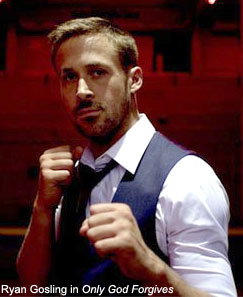 Ryan Gosling teamed up with Drive director Nicolas Winding Refn once again for the new movie Only God Forgives – but when it screened at the Cannes Film Festival this week, the audience, which was made up mostly of critics, booed. The film includes extremely gruesome and violent scenes of torture, dismemberment and violation that disturbed audiences, and there were reports of viewers leaving the cinema during the screening. Many took to Twitter to express their distaste and mixed feelings about the film, and some called Gosling's violent character boring due to his lack of speech. Despite the criticism, Refn defended his love of graphic violence Read more
May
23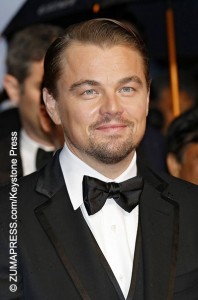 British model and actress Cara Delevigne, 20, turned down Leonardo DiCaprio's romantic advances at the Cannes Film Festival this week, calling him "too forward and too old." The pair met at an after party for Leo's film The Great Gatsby but the 38-year-old actor's good looks and baby blue eyes had no effect on Cara. A source told British newspaper The Sun, "Normally all Leo has to do is look at a girl and they fall at his feet… though Cara was having none of it." The source said Leo spent the whole night chasing after her trying to steal a kiss, but she continued to blow him off. "They spoke and he was pretty forward, inviting her to a party back at his suite. He tried every trick in the book and apparently kept lunging for her but she kept dodging them," the source said. Leo, who has dated numerous top models Read more
May
22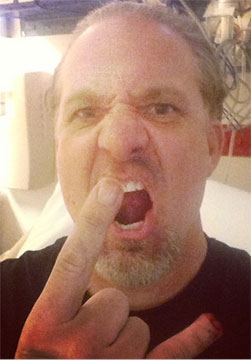 Jesse James may be a professional mechanic, but on Monday in Texas he cut off the tip of his right pinky finger while operating a power saw. The reality show star called gossip site TMZ after it happened, revealing, "I was working in the shop today and my glove caught into one of the machines and just smashed it, took my finger off." After Jesse realized what had happened, he and his new bride, Alexis Dejoria, searched on the ground for the rest of his finger. They found it and raced to the hospital to get it sewn back on. Unfortunately for the 44-year-old celebrity mechanic, the tip couldn't be reattached. James posted several pictures before and after, including the one shown here, which had the caption: "Heading 2 Surgery." Afterwards, he posted graphic pictures of the severed bit, writing Read more
May
22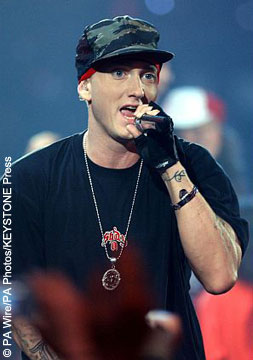 Eminem's song publisher, Eight Mile Style, is suing Facebook and ad agency Wieden + Kennedy for copyright infringement. Eight Mile Style claims the ad agency's advertisement for Facebook Home used a portion of Eminem's song "Under the Influence." In the federal lawsuit the publisher says, "W+K's and/or Facebook's willful encouraging, inducing, facilitating and enabling of the unauthorized use and exploitation of the Eminem/D12 Composition and any derivative thereof constitutes copyright infringement." The lawsuit also states: "Facebook CEO Mark Zuckerberg has been a longtime fan of Eminem. This is evidenced by one of the first websites Zuckerberg reportedly created in 1999, on which Zuckerberg refers to himself as 'Slim Shady,' which is Eminem's Read more
May
22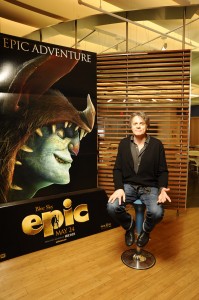 Featuring the voices of Amanda Seyfried, Josh Hutcherson, Christoph Waltz, Beyoncé Knowles, Pitbull, Jason Sudeikis, Steven Tyler, Aziz Ansari and Chris O'Dowd, Epic opens in 3D on May 24, 2013. Colin Farrell voices Ronin, the leader of the Leafmen – two-inch tall humanoid creatures with grasshopper-like jumping abilities who fly around saddled on the back of hummingbirds. Hutcherson lends his voice to Nod, a young recruit with his own way of doing things. They fight the Boggans – dim-witted creepy crawlers who sow disease and rot. The balance between the two forces hinges upon choices made by a human girl, Mary Katherine (Seyfried), who is magically shrunken down to their size.
Oscar-winning director Chris Wedge, who spent years working on Epic, was in Toronto to discuss the film and Tribute had the chance to chat with him. Read more
May
22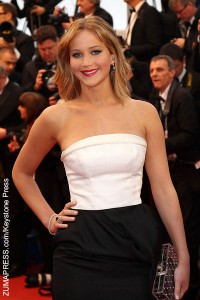 A Vancouver resident has been jailed for stalking and threatening The Hunger Games star Jennifer Lawrence and her family. Han Cong Zhao, a former university student, is being held in a Kentucky jail after appearing at the actress's home in Louisville last month. According to a criminal complaint, that same day, Zhao went to the police station and asked how he could contact Lawrence's parents. He has also reportedly sent Jennifer's brother, Blaine Lawrence, 200 messages, including threatening voice mails. Based on court records, Zhao referred to Jennifer as "his Mary, referencing the Biblical Mary." The judge has called his threats "a serious danger" and Zhao has been ordered to have no contact with Jennifer or her family. A trial date has been set for July 23. According to Jennifer's lawyer, Read more
May
22
Ellen DeGeneres and Portia de Rossi have bought a $26.5 million California mansion. The power couple - who married in 2008 - have splashed out on the six bedroom, six bathroom home in Montecito, Santa Barbara County. According to website TMZ, the house, located on 13 acres of land, has one of the best vistas in the state and boasts a pool with an ocean view. The mansion is the latest addition to Ellen's property portfolio, which includes several homes around Los Angeles including in Beverly Hills and Hidden Valley. Ellen, 55, recently had a scare when one of her properties, a farm in the Camarillo area of California, was threatened by a blaze.
Read more
May
21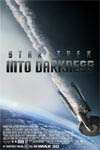 Star Trek Into Darkness conquered the box office this weekend with an estimated $70.2 million at the North American box office, falling slightly short of the expected $100 million and earning less than the first Star Trek movie did four years ago, which took in $75 million on its debut weekend. The sequel received a strong 4 out of 5 stars by Tribute users and knocked Iron Man 3, which has a 4 star rating, into second place with $35.8 million and The Great Gatsby, also with 4 stars, to third place, Read more