Jan
13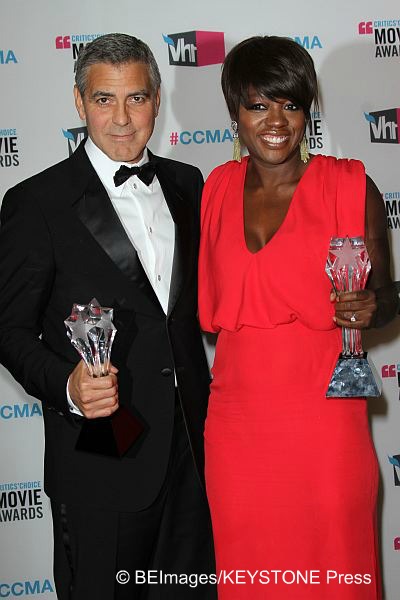 "Being honored by a critic is like being on a three-week binge with the enemy." -- The wise words of iconic Canadian actor Christopher Plummer. "It's rather like going back to school and the headmaster calls you in and gives you a good report." It's a feeling likely shared by many others in the industry. When it comes to moviemakers and critics, you're either cringing at the mercy of a harsh review or relishing in the glory of a good one. Last night it was all about celebrating the best of the bunch as the 17th annual Critics' Choice Movie Awards, held at the Hollywood Palladium, paid homeage to the most talked about movies of 2011.
So who were the big winners? While the People's Choice Awards held earlier in the week seemed to honor the younger stars of today, last night's awards recognized the industry's more established names, like George Clooney (Best Actor), Christopher Plummer (Best Supporting Actor), and Woody Allen (Best Original Screenplay). The night's top prize for Best Picture went to -- not surprisingly -- Michel Hazanavicius's black and white silent ode to 1920s cinema, The Artist. It also won the trophy for best score, costume design, and director.
The Help wasn't too far behind with three big wins: Best Actress for Viola Davis, Best Supporting Actress for Octavia Spencer, and Best Acting Ensemble for the rest of the femme-powered cast. Davis left the audience cheering after giving an inspiring speech reminiscent of her film's powerful story. "They say the two most important days in a person's life were the day you were born and the day you discover why you were born. And you know, five hours on the bus going to acting classes when I was 14 years old and coming from very challenging circumstances, I absolutely knew I wanted to be an actor because I wanted to be a somebody," said the actress. "I consider it my honor to pay homage to these woman who in this time period were not allowed to dream, not allowed to find their purpose." Then there was Judd Apatow, executive producer of Bridesmaids, who was so happy about his film's award he cursed on live TV. "Jerry Lewis once said he didn't think women were funny. So I'd just like to say, with all respect, F--k you!"
The awards are a precursor of sorts to the prestigious Golden Globe Awards to be held this coming Sunday. In the meantime, here's a full run-down of all of last night's winners:
Best Picture
The Artist
Best Actor
George Clooney, The Descendants
Best Actress
Viola Davis, The Help
Best Supporting Actor
Christopher Plummer, Beginners

Best Supporting Actress
Octavia Spencer, The Help
Best Young Actor/Actress
Thomas Horn, Extremely Loud and Incredibly Close
Best Acting Ensemble
The Help
Best Director
Michel Hazanavicius, The Artist
Best Original Screenplay
Midnight in Paris, Woody Allen
Best Adapted Screenplay
Moneyball, Aaron Sorkin, Steve Zaillian and Stan Chervin (based on the book by Michael Lewis)
Best Cinematography
(tie) The Tree of Life and War Horse
Best Art Direction
Hugo
Best Editing
The Girl With the Dragon Tattoo
Best Costume Design
The Artist
Best Makeup
Harry Potter and the Deathly Hallows: Part 2
Best Visual Effects
Rise of the Planet of the Apes
Best Sound
Harry Potter and the Deathly Hallows: Part 2
Best Animated Feature
Rango

Best Action Movie
Drive
Best Comedy
Bridesmaids
Best Foreign Language Film
A Separation
Best Documentary Feature
George Harrison: Living in the Material World
Best Song
"Life's a Happy Song" by Brett McKenzie, The Muppets
Best Score
The Artist
Joel Siegel Award
Sean Penn
Music + Film Award
Martin Scorsese
Share this story:
You Might Also Like:
Comments