May
18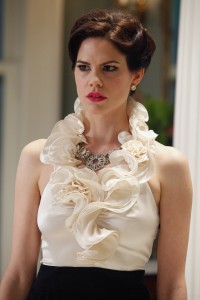 True Blood star Mariana Klaveno—who stars as the twisted vampire Lorena, Bill Compton's maker—talks blood, fangs and what it was like to work on one of HBO's most popular shows.
—By Toni-Marie Ippolito
When you meet Mariana Klaveno in person, you can hardly grasp the fact that she played such an evil vampire on HBO's hit show True Blood. Tall, gorgeous and simply lovely, she's nothing like her villainous character Lorena who has only one goal in mind: to get her lover Bill Compton back. To say she her character was slightly psychotic in her attempts to reclaim vampire Bill's love and attention is an understatement.
Her gruesome and violent scenes with Stephen Moyer's vampire Bill were wildly entertaining and added to the show's popularity. So much so, that True Blood has reached enormous cult status and is HBO's most successful series franchise launch in its history. "We were all shocked at how big this become," Klaveno said while in Toronto. "It just blew up, and when you throw someone like Alan Ball (Executive Producer) in there, then you know you have that respect."
Who better than Alan Ball (American Beauty, Six Feet Under) to bring True Blood—a show based on the life of waitress Sookie Stackhouse (Anna Paquin) who lives in Bon Temps, Louisiana during a time where humans co-exist with vampires—to life. Based on the books by Charlaine Harris, Ball, who has an admitted fascination with death and the supernatural, has elevated the stories to new heights and is not afraid to push the limits with his cast members and expand Sookie's world deeper into the supernatural realm to include not only vampires, but witches, wolves and shapeshifters.
It's genius, really, because who could resist a show about sex and violence mixed with gore, blood, fangs and little romance? It's a unique combination that makes the True Blood series so addictive and hard to resist, and Klaveno couldn't agree more. "When I first read about [Lorena] I loved her! I'm always drawn to characters that are flawed. It's more fun that way. Lorena is sad, tortured and the villain all at the same time. She's very unstable. She was challenging to play."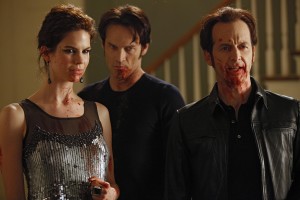 To keep things interesting with her vampire character—who shared some shocking and head-twisting sex scenes with Bill—Klaveno said she constantly thought of ways to play her character a bit differently through various stages in her vampire life. "You see her in different decades and after Seasons 1 and 2, I wanted her to be different," she said. "I studied the way Alex (Skarsgaard) and Kristen Bauer, who play Eric and Pam, played their vampires, so cool and aloof, and I wanted Lorena to be different altogether. You can see her smile, but you don't know what she would be capable of next. She can lose it at any minute."
In Season 1, we are introduced to Lorena who so graciously gave Bill "the gift" of eternal life over two centuries ago. Although Bill changed his evil ways and parted with Lorena, "his maker," she managed to keep a strong hold on him. So when she came back into his life to lure him away from Sookie, things got bloody, fast. But working with all that blood didn't seem to bother Klaveno too much. "I was fine with all that blood," she admits. "Until it got into my hair! It would get so sticky and hard and it wasn't fun when bits of my hair would break off."
As much as it was challenging working on those bloody scenes, learning to speak while having fangs in your mouth, and with an accent, took some skill. "The teeth are all custom made for each of us, like a retainer," said Klaveno. "But speaking while having them in your mouth was a bit problematic. I would keep them in between scenes to get better at it. Stephen was the best at it, though!"
Leaving the series, which Klaveno describes as the best experience, was bittersweet for the star whose character finally meets her demise in Season 3. "I really loved that last scene with Bill and I where I torture him [laughs]. I really loved the dialogue between us and there were some really raw moments."
Although parting is such sweet sorrow, Klaveno admits she'll keep watching like the rest of us. "I'll definitely continue to watch the show. I'm a huge fan!"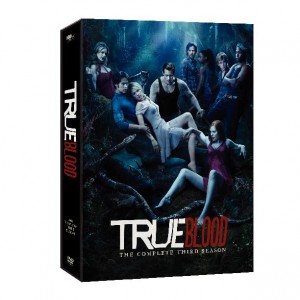 True Blood: The Complete Third Season is available on DVD May 31. Click here to enter for your chance to win a copy!
Share this story:
You Might Also Like:
Comments