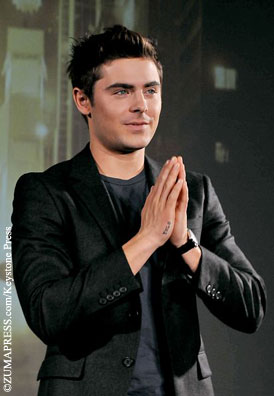 If the titles of his past films are any indication, Zac Efron, 26, has had quite the troubled history with addiction and substance abuse. Before a five-month stint in rehab early last year, Zac partied like he was 17 Again on New Year's Eve, requiring a quick fix At Any Price, but now he's sober, and quite The Lucky One. Despite playing a hard-partying, beer-swilling frat boy in the recent Seth Rogen comedy, Neighbors, the former High School Musical grad explained that drinking for real is another issue.
On the series premiere of the NBC reality show, Running Wild with Bear Grylls, where celebrities enter the wilderness for two days of adventure and survival training, Zac explained, "It got to the point where I was caring less about the work and waiting more for the weekend where I couldn't wait to go out and let loose and have fun. But when Monday and Tuesday were difficult to get through, I thought, 'This is bad.'"
Zac maintains that it was not the stresses of his profession that led him to rehab: "It was sort of the in-between work—the social aspects outside of it; everywhere you go [there are press and people watching] … and it can be confusing … and pretty soon you need a social lubricant."
Having learned his lesson, Zac confesses, "I just really never again want to take anything from the outside in to feel comfortable in my present skin, and that takes a lot of work. It's just meditation and stopping and slowing down your brain." ~Daniel Horowitz
Share this story:
You Might Also Like:
Comments