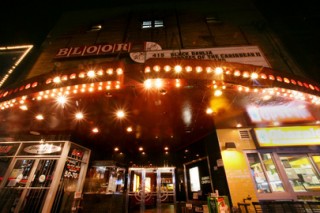 The Bloor Hot Docs Cinema has been added as a screening venue for this year's Toronto International Film Festival. The recently renovated theatre is located at 506 Bloor Street West in the Annex neighborhood. It played host to this year's Hot Docs Film Festival from April 26 to May 6.
The almost century-old Bloor Hot Docs Cinema reopened in March 2012 with upgraded projection and sound capabilities and more modernized facilities. The historic theatre first opened its doors in 1913 as the Madison Picture Palace, one of the first "picture palaces" in Toronto.
 The 710-seat venue previously played host to TIFF screenings in the 1980s and 1990s. In this year's lineup, the theatre will be home to most Vanguard program screenings, as well as screenings in the newly renamed TIFF Docs program, formally known as Reel-to-Reel. The 37th Toronto International Film Festival takes place September 6 to 16, 2012.