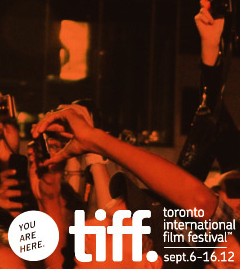 The Toronto International Film Festival has announced the selections for the Short Cuts Canada programme. These short films represent multiple genres from both accomplished and emerging directors from across the country. There promises to be something for everyone.
TIFF programmers Alex Rogalski and Magali Simard received over 700 entries for this years festival - the most submissions that Short Cuts has ever received. Simard believes "that the future has never looked brighter for Canadian shorts," due to the overwhelming positive response. They were able to narrow down the entries to a 44 film selection of shorts that range from having strong social messages to deadpan humour.
These Canadian films maybe short in length but they are long in quality - the programmers are sure that the selections will have worldwide audience appeal.
The films featured in the 2012 TIFF Short Cuts Canada are:
100 Musicians Charles Officer
A Pretty Funny Story Evan Morgan
American Sisyphus Frieda Luk
Asian Gangs Lewis Bennett and Calum MacLeod
Aubade (L'Aubade) Carla Susanto
Bardo Light Connor Gaston
Barefoot Danis Goulet
Broken Heart Syndrome Dusty Mancinelli
Bydlo Patrick Bouchard
CanoeJacked Jonathan Williams
Crakin' Down Hard Mike Clattenburg
The Dancing Cop Kevin Redvers
Dear Scavengers Aaron Phelan
Frost Jeremy Ball
The Genius from Quintino Johnny Ma
Herd Leader (Chef de Meute) Chloe Robichaud
H'Mong Sisters Jeff Wong
Horrible Things (Les choses horrible) Vincent Biron
How to be Deadly Nik Sexton
I'm Beginning to Miss You Sakay Ottawa
Apart Theodore Uskev
Keep a Modest Head (Ne crane pas sois modeste) Deco Dawson
Let the Daylight into the Swamp Jeffery St. Jules
Life Doesn't Frighten Me Stephen Dunn
Lingo Bahar Noorizadeh
Lost in Motion Ben Shirinian
Malody Philip Barker
Model Dylan Reibling
The Near Future (La future proche) Sophie Goyette
Nostradamos Maxence Bradley
Old Growth Tess Girard
The Pool Date Patrick Sisam
Reflexions Martin Thibaudeau
Safe Room Elizabeth Lazebnik
Shit Girls Say Graydon Sheppard and Kyle Humphrey
Struggle (Faillir) Sophie Dupuis
Sullivan's Applicant Jeanne Leblanc
The Tape Matt Austin
Their Feast (Waleematehom) Reem Morsi
Tuesday Fantavious Fritz
Vive la Canadienne Joe Cobden
When You Sleep Ashley McKenzie
With Jeff (Avec Jeff, a moto) Marie-Eve Juste
The Worst Day Ever Sophie Jarvis
Additional scheduling and ticket details for the Toronto International Film Festival are available here.