Salma Hayek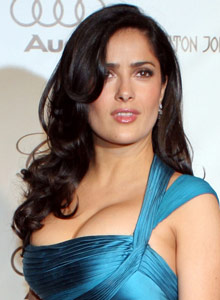 Date of Birth: September 2, 1966
Born to a Lebanese father and a Mexican mother in Coatzacoalcos, Mexico, Hayek was a huge star in Mexican soap operas before deciding to try and make it in Hollywood. Although she didn't speak much English and was leaving behind a very lucrative career, Hayek was determined to try and paint on a bigger canvas. "Everybody thought I was crazy and stupid and ridiculous," she says about her move from Mexico to Hollywood. "Nobody leaves when you're doing so good, but I believe in instinct."
Her instincts proved correct as she learned some English and began getting minor roles. After her appearance in the action film Desperado (1995) opposite Antonio Banderas, it was difficult for audiences and filmmakers not to notice her. In the next five years she added 13 films to her resumé, including From Dusk till Dawn (1996), The Faculty (1998), Wild Wild West (1999) and Dogma (1999).
Hayek has never forgotten her roots though. After completing Desperado (1995), she returned to Mexico to film Callejón de los Milagros (1995) and was nominated for an Ariel (Mexican Academy Award). She has also formed her own production company, Ventanarosa (pink window) to promote the Latin-American genre. Hayek is considered to be the first Mexican actress to become a Hollywood movie star since Dolores Del Rio.
She also produced and starred in Frida (2002), earning her Golden Globe, Oscar and Screen Actors Guild nominations.
In 2004, she won a Daytime Emmy for her directorial debut with the TV movie, The Maldonado Miracle, which she also produced.
Salma Hayek Gallery: