Garner plays Elektra, a martial arts master that captures Daredevil's heart. But taking on an action role is nothing new for this actress who kicks butt week after week as spy Sydney Bristow on TV's Alias.
Born in Houston, TX, in 1972, her family relocated to Charleston, WV, where she grew up. Garner attended Denison University in Ohio, where she became interested in drama, and eventually received a degree in theater. After college, Garner moved to New York and began auditioning for stage roles, landing her first part only a month after arriving in town in 1995 as an understudy in the Broadway production of A Month in the Country.


Later that same year, Garner moved to Los Angeles, and began working in television, making her screen debut in the made-for-TV movie Zoya. Over the next two years, Garner landed guest roles on several television shows, including Spin City and Law and Order, and small parts in several motion pictures, among them Deconstructing Harry and In Harm's Way.
In 1998 Garner was cast as the female lead on the short-lived Fox drama Significant Others; while the show only aired for a little over a month, Garner fared much better with a showy recurring role on Felicity, where she played Hannah, the former girlfriend of Noel Crane, played by Scott Foley.
While Garner claims she had to go through five rounds of auditions before she was given the role, she certainly made an impression on co-star Foley; they soon began dating, and were married in the fall of 2000.
Garner's work on Felicity helped win her a major supporting role on the television series Time of Your Life, a spin-off from Party of Five starring Jennifer Love Hewitt. The heavily promoted series was a ratings disappointment, but Garner received enthusiastic notices, and began winning film roles in high-profile projects such as Pearl Harbor and Dude, Where's My Car?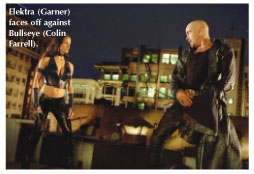 In 2000, J.J. Abrams, who produced Felicity, was preparing a new series for ABC about a female CIA spy working as a SD-6 agent, who is posing as a bank employee. Abrams remembered Garner's impressive performance as Hannah, and cast her as Sydney in Alias (for which she won the award for best actress for a TV drama series at the Golden Globes in 2002). The show quickly became a success, earning respectable ratings, strong reviews, and a devoted fan following who tuned in each week to see Garner beat up bad guys and don an impressive collection of slinky outfits.
Here's what Garner and Ben Affleck had to say about their roles during a press conference for Daredevil.

What effect has the comic book had on you and how different was the script from the comic in terms of your character?
JG: It's tricky because she still has to be a real person. She can't be huge in every single direction the way the comic book tends to be. I think that Elektra was specifically written with more subtlety than you see a lot of the time and I just kind of read everything that I could get my hands on.

BA: For me, being a fan of it my whole life, I basically felt like I'd read every Daredevil comic book ever written, so I knew what that side of it was. But it's tricky because you run up against things in the real world that, when you're really saying it seem silly but that don't seem silly when they're in a comic book. So you have to try to find that balance. In terms of the genre of comic book movies, this one is definitely aiming more toward a character-driven story and so the challenge is to make it honest and believable and that is just something we continue to try and tinker with.

How is the choreography working and how is it similar or different to what you've done in the past?
BA: Hopefully it's something that people haven't seen before and the most pronounced aspect of that is that it's a lot of extra work. Jennifer and I were here for a couple of hours after we finished shooting last night rehearsing extra fight stuff. It takes a lot more time than a normal movie, but when you see it all put together - looking cool like a real fight - it's visually spectacular. Jennifer's great. She's fabulous. She's actually better at it than I am. She has had so much training from the Alias thing and she's a dancer, so she shames me every day.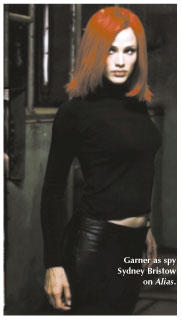 JG: The fights are different for me than what I've learned because they're more specific. On Alias, I basically learn it on Sunday and shoot it in one day on Monday or Tuesday, and it's done and I move on. But Ben and I have been working on this fight that we're shooting later this week for six weeks now, three hours a day, every day of the week, and we've been working really hard... So, we're just taking a lot of care to make sure that things are true and specific. We have great guys teaching us.
What do you think about the Elektra costume and did you choose to change it?
JG: Actually, Elektra has two different costumes in the comic. The one that is more well known is the red, with the sashes and nothing underneath. She does also wear a black leather costume. The costume is not something that I would choose to wear on my own, but you just kind of have to go for it, and Ben's in tights, pretty much. The costume designer did an incredible job of taking something that could be so embarrassing and made it as cool as possible. All of the superhero looks have a real hip element to them and they're not your average kind of men-in-tights. Mine is no exception to that. It was really fun.

What do you think of your costume, Ben?
BA: I think it looks really good, actually.
Did you ever think that you would be doing action films? And do you think that it's becoming more common for women to be action heroes?
JG: I really thought that I would do Shakespeare festivals for the rest of my life. So no, this is the farthest thing that ever could have been, you know, in my mind, but it's amazing how what you do when you're young circles around and haunts you for the rest of your life. In my case, that's ballet and I was never a wonderful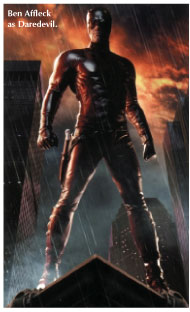 dancer, but I was a very hard working dancer [laughs], and it's paid me back in the greatest ways.
I love the action movie aspect of this film. I love this kind of inner daredevil in myself peeking out. I never would've even bungee jumped and now, it's nothing for me to be on a wire a hundred feet up. So, it makes me incredibly happy to rehearse a fight, shoot the fight, and I don't know why [laughs], but I do hope that women continue to play action roles. It's incredibly empowering to do and I hope that it's incredibly empowering to watch as long as there is a character behind them. I've been lucky that both of my action roles are rooted in story and in character. As long as that's there, I hope for any woman that she gets to kick ass for a couple of weeks. It's pretty rewarding. Especially his.
BA: It's a big draw. Come kick Ben Affleck's ass.

- Robin Lynch