there, his skills as a soldier and engineer make him the city's chief defender. Says Scott, " Balian is the only [historical] character we took liberty with. We had to. We had to find a leading guy." Bloom's Balian is, according to Scott, "a very earnest, open and true character, who is on a journey of spiritual, political and emotional discovery. It's a huge arc for one man."

Balian's chief adversaries are the Saracens, led by the legendary Muslim leader Saladin (Ghassan Massoud) -- a historical figure now so revered in the Middle East that former Iraqi president Saddam Hussein declared himself a descendent.

Kingdom Of Heaven is a logical progression for Scott-going from a movie about the Roman Empire (the Oscar-winning Gladiator) to one about the Holy Roman Empire. However, the Russell Crowe movie Gladiator was not nearly as provocative. Relatively few people these days, after all, are setting off bombs and proclaiming themselves martyrs for Jupiter (ruler of the gods in Roman mythology).

Religious historians are already arguing about the accuracy of this tale of the Crusades. UCLA professor Khaled Abu el-Fadl commented in a New York Times article, "In this climate, how are people going to react to these images of Muslims attacking churches and tearing down the cross and mocking it?"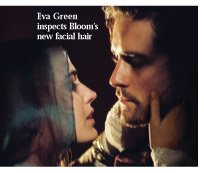 Meanwhile, British scholars are outraged at the depiction of the famed Crusaders -- the Knights Templar -- as brutes. While on location in Morocco the production company even received bomb threats from Islamic extremists. But Scott says all the conflicting criticisms may be the best testament to Kingdom Of Heaven's objectivity. "It's tricky, because you weren't there and you're not talking to anyone who was there," Scott told Time magazine. "Therefore, what you are going to put down on paper is sensitive conjecture."
It's good to keep in mind that underneath all the controversy, Kingdom of Heaven is not a political manifesto-it's a big-budget Hollywood blockbuster, starring a big-name actor, that aims to entertain.

- Jim Slotek