vacation. "I had taken some time off," she told us. "When I came back, I felt very rejuvenated and refreshed. It was kind of the first time I had ever done that-took some time for myself in that way."

As with any hard-working professional, Lopez says it's all about balance: "Learning how to shut it down at a certain time and getting that good sleep time and actually sitting down to have dinner. That hardly ever happens when you're in this business. It makes a big difference on how you feel… I'm still not that great at it, but I try."

As for Monster-In-Law, Lopez says the shoot was a good experience. "I love a good romantic comedy, to watch as well as be in. It was really fun, there's a lot of fun in it."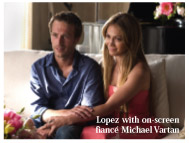 The film also marks the return of Oscar-winner Jane Fonda in the title role. In her first movie in 15 years, Fonda plays Viola Fields, who is none too pleased when her son Kevin (Alias's Michael Vartan) brings home the girl of his dreams (Lopez). Viola feels that her hold on her loving son is slipping and she transforms from a doting mom to a vengeful, well, monster. Fonda virtually tears apart the scenery in some scenes, but Lopez is fully able to go toe-to-toe with the legend. Filling out the cast is spitfire Wanda Sykes (TV's Wanda Does It), who brings her distinctive, no-B.S. personality to the film.
Monster-In-Law is a perfect example of the kind of project that makes up Lopez's satisfying career. "You have your hopes and you have your dreams and you go for them. You never know what's gonna happen or what kind of path you're going to wind up going down…I feel very fortunate and very thankful for the way things have gone."

- Tom Jokic
(with files from CHUM FM's Cory Kimm)