good one. Just my gut," Segal said. "There's a fine line between choosing the kinds of movies that are worthy of remaking and others that aren't. It's a choice one makes but I certainly think you're in safer territory the further you are away from the original."

Segal also reveals that perpetual funny man Sandler didn't treat his role as a laughing matter. Though Sandler is no virgin when it comes to underdog football movies -- he played a slow-witted, na´ve mama's boy turned football star in the 1998 hit The Waterboy -- he prepped for The Longest Yard by training with a 14-year NFL veteran quarterback.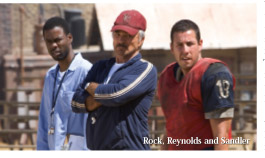 Sandler also worked with another veteran -- Reynolds, who plays football hero and coach Nate Scarboro, also on lockdown. "I'm not quite as smooth as Burt, but I make up for it with some sweetness," Sandler confesses. "I don't got the sex appeal, but I can sweet you to death."
Chris Rock, who shares starring duties in the film (Rock and Sandler have known each other for 20 years but this is their first on-screen pairing since Saturday Night Live), says the sex appeal on set didn't end with Reynolds. R&B/hip hop star Nelly plays fellow convict Earl Megget.

Rock jokes, "Nelly has had sex with every woman on the set. It's the Pimp Juice or whatever he gives them."
And Sandler adds, "That kid's got some sex appeal. That kid makes me question myself."

Sandler's fans certainly don't question him. He's already proven to countless moviegoers that he's got game, and in The Longest Yard he takes the game of funny straight into to the end zone.

- Sharmila Jowlabar