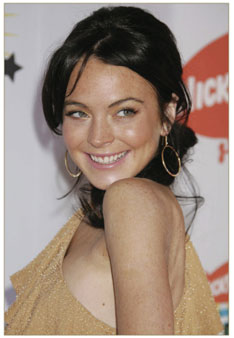 DATE OF BIRTH: July 2, 1986
PLACE OF BIRTH: New York, New York
STATUS: Single
BIG MONEY: $7.5 million for Herbie:
Fully Loaded and Just My Luck
UPCOMING PROJECTS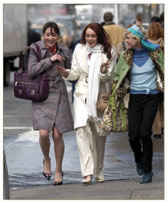 Just My Luck May 12
Manhattan socialite, Ashley (Lohan), a young professional just out of college, happens to be the luckiest woman in the world. She's lived a super-charmed life and has always taken her good luck for granted. When she kisses a handsome stranger (Chris Pine) at a masquerade ball, she accidentally swaps her good fortune for his horribly bad luck, and her charmed life turns into a living hell.

A Prairie Home Companion (June 2006)
A look at what goes on backstage during the last broadcast of a fictitious radio variety show, featuring singing cowboys Dusty and Lefty, a country music siren (Meryl Streep), and a host of others. As the show's cast of characters prepare for the final live broadcast on the eve of being shut down after 30 years, passions erupt, secrets emerge and a mysterious stranger lurks in the shadows, the vigilant stage manager must hold it all together since the "show must go on."



CAREER HIGHLIGHTS

The Parent Trap (1998)
At just 12 years old, Lohan landed her first major film role. Playing, not one, but two characters (twins) in the film earned her widespread critical acclaim, and a Young Artist award for Best Leading Young Actress in a Feature Film.

Freaky Friday (2003)
Starring alongside veteran actress Jamie Lee Curtis in this film about a mother and daughter who switch personalities was a huge career high for Lohan. The film was a mega hit that generated over $160 million worldwide and earned Lohan praise from critics for her performance.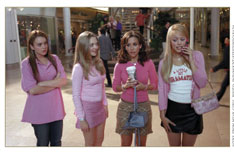 Mean Girls (2004) This film transitioned Lohan from child actor, to bonafide teen star. Written by Saturday Night Live writer Tina Fey, the high school comedy/drama opened to rave reviews, and grossed $86 million in the US. The film's success also earned Lohan the title of "bankable actress" and her reported salary per film instantly jumped from $1 million to $7.5 million-making her one of the youngest in demand actresses.

SELECTED FILMOGRAPHY
Confessions of a Teenage Drama Queen (2004), Herbie: Fully Loaded (2005)