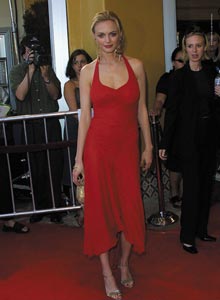 ho knew that Heather Graham would make it big in Hollywood? Apparently, her high school graduating class did. In 1988, they voted Graham "Most Talented." Since then, the now 31-year-old actress has appeared in more than 32 films, modeled for Emanuel Ungaro Liberte, and graced the covers of Rolling Stone, Entertainment Weekly, Premiere, Glamour and Movieline.
This month Graham stars opposite Johnny Depp in the Hughes brother's Jack-the-Ripper thriller From Hell, playing a London prostitute who befriends a Scotland Yard investigator hunting for the notorious killer. Not bad for a girl who, by her own admission, was once a quiet, unpopular theater geek whose devout Catholic parents encouraged her to be a nun. Thankfully for her fans, she never did make it to the convent.
At the age of 18, Graham left home to pursue a career in Hollywood and fulfill the title bestowed upon her by her senior class. Born in Milwaukee, Wisconsin on January 29, 1970 to an FBI agent father and a school teacher/author mom, Graham and her younger sister Aimee changed schools frequently as their father's job relocated them throughout the country.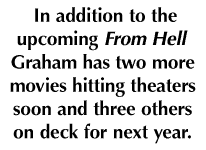 The family eventually settled in Agoura, California, a suburb just north of Los Angeles. It was there that Graham discovered her love of acting, making her stage debut as Dorothy in a school production of The Wizard of Oz. She remained active in theater throughout high school, including a stint as Drama Club president during her sophomore year and a turn tapping into her budding sex appeal as the seductress, Lola, in Damn Yankees. An adolescent Graham regularly enlisted the help of her mother to make the 45-minute drive to Hollywood so she could make auditions. The commutes paid off.
Graham landed a few small parts in episodic television shows including Growing Pains and The Outer Limits, the TV-movie Student Exchange, an un-credited appearance in the Arnold Schwarznegger/Danny DeVito movie Twins and eventually her first feature film role in the teen comedy License to Drive, starring the infamous dueling Coreys (Haim and Feldman). At the insistence of her conservative parents, who forbid her from accepting any roles they considered too racy, Graham turned down the lead role in 1989's Heathers. The dark, teen angst comedy introduced audiences to a then 18-year-old Winona Ryder and Graham regretted having not taken the role.
When writer/director Gus Van Sant chose Graham for the part of an ill-fated, drug-addicted, teenage runaway in Drugstore Cowboy, Graham knew her parents wouldn't approve. Against her parent's wishes, a rebellious Graham left the constraints of her strict Catholic upbringing for an apartment in Hollywood just so she could accept the part. The decision did not go over well at home and in the years that followed, her relationship with her parents continued to deteriorate. To this day she remains estranged from them.
Graham's performance in Drugstore Cowboy brought her critical praise and even an Independent Spirit Award nomination but in the months that followed she nonetheless found herself again looking for work. So, like so many others before her, she took on a variety of odd jobs to support herself, the most notable being that of an usher at the legendary Hollywood Bowl.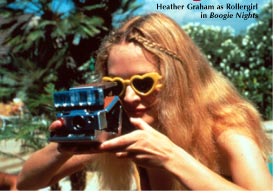 Over the next few years Graham worked intermittently in a variety of small roles in forgettable films including I Love You to Death, Guilty as Charged and Shout, as well as the David Lynch TV series Twin Peaks. But when acting jobs became fewer and farther between, Graham decided on the more practical pursuit of a college education. She enrolled at UCLA as an English major but dropped out at the end of her Sophomore year to pursue acting again fulltime.
As fate would have it, her two years of higher education served her well. It was in a literature class that Graham was introduced to The Brothers Karamazov, a novel by Dostoevsky. It just so happened that while reading it one day, she caught the eye of a fellow Dostoevsky fan, actor James Woods. Graham went on to audition for and land a small part in the boxing movie Diggstown, starring Woods. During filming, Graham, then 22, embarked on a gossip-worthy May-December romance with the elder Woods, who was twice her age at the time. It's a relationship the actress is somewhat reluctant to talk about. "I can't believe I ever went out with him," said Graham in a recent interview. "That's one of those relationships you look back on and say, 'What was I doing?' He's a very interesting man, but it's hard to imagine I dated him." Their relationship fizzled nearly as fast as the movie did.
In the years that followed Graham worked steadily in a variety of films, including Even Cowgirls Get the Blues, Six Degrees of Separation and a memorable appearance as Jon Favreau's swing-dancing dream girl in the 1996 indy hit Swingers. Though she had reached her goal of becoming a working actress, Graham hadn't yet reached the level of success she was hoping for.
When Boogie Nights was released the following year, Graham finally found the fame that had eluded her for nearly a decade. Her memorable performance as Rollergirl, a naughty Lolita who would gladly strip off everything but her skates, put the actress in high demand. At first, director Paul Thomas Anderson was reluctant to cast the seemingly innocent Graham as the quirky, coke-snorting, nubile porn star. "She had such an angelic quality that something (initially) closed the doors in my mind," the director said. But Graham convinced him otherwise, despite her own doubts about being able to do the part. "I was a little scared being naked," she confessed to an interviewer at the time. "But it was kind of freeing."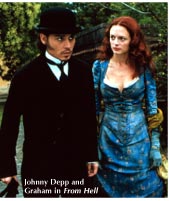 Graham went on to appear in the indie love triangle Two Girls and a Guy with Robert Downey Jr., spoofed Drew Barrymore in Scream 2's movie within a movie, and co-starred with Gary Oldman and Friends' Matt LeBlanc in 1998's Lost in Space. Unscathed by the negative reviews of the big budget, but critically panned sci-fi flop, Graham came out swinging with a one-two punch in two high-profile comedies the following year. In Bowfinger, co-starring Steve Martin and Eddie Murphy, Graham played an aspiring starlet willing to sleep with cast and crew if it meant landing an acting job. As the aptly named "Felicity Shagwell" in the long awaited Austin Powers sequel, Austin Powers: The Spy Who