2 Days in New York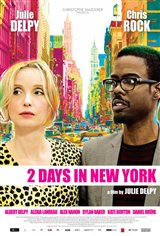 | 190 votes and 37 Reviews
Write a Review
Release Date:
August 10, 2012 - Toronto,Vancouver
DVD: November 13, 2012
1h 31m | Comedy
---
When Marion (Julie Delpy) left Paris with her son to experience life in the Big Apple, she thought she had left her old life behind, but she was wrong. Dead wrong. Cozy in her new relationship with Mingus (Chris Rock), her world is turned upside down when her father, sister and sister's boyfriend come to town on vacation from France.
Between the overly sexual sister and the completely outrageous father-in-law it is hard to know who has it worse—Marion, or Mingus. The chaos culminates as she struggles to prepare for an upcoming photo exhibit.
---