A Sweet Spot in Time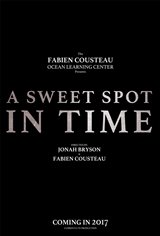 | 14 votes and 2 Reviews
Write a Review
| | |
| --- | --- |
| Running time: | 1h 30m |
---
A Sweet Spot in Time is the awakening journey of a 16-year-old fighting for his generation's future. In an environmental battle that puts his destiny at risk, director and musician Jonah Bryson has teamed up with world-renowned oceanographic explorer and filmmaker Fabien Cousteau to give audiences a new look at this controversial issue — while the hour glass is still trickling sand. Seamlessly woven into this true story of the present time, is an epic and cinematic adventure that reveals the world of 2100, as it will surely be if we fail to respond the environmental challenges already confronting us now.
A Sweet Spot in Time will take the audience on an entertaining, dramatic and hopeful ride aimed at changing the world. This movie is a call to action for the people of today to address the errors of humanity's past and save the future of tomorrow's children.
The film is set to be released in 2017.
---