Amistad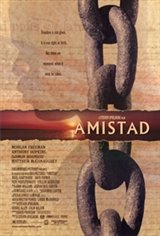 0 votes and 0 Reviews
Rotten Tomatoes® Score


78%

79%
| | |
| --- | --- |
| Running time: | 2h 32m |
---
In the summer of 1839, on a stormy night off the coast of Cuba, 53 Africans held captive in the cramped cargo holds of the Spanish slave ship La Amistad break free of their shackles. Led by Cinque, they arm themselves, take control of the ship and reclaim their freedom. They have one goal: to return to Africa.
Without the navigational skills to guide them home, the Africans are forced to rely on the two surviving members of the crew. But they are tricked. After two months on a ragged course up the Eastern seaboard, the Amistad is captured by an American naval ship off the coast of Connecticut and the Africans were charged for murder and piracy.
In the beginning, the Africans are championed by abolitionists Theodore Joadson and Lewis Tappan, and a young real estate attorney named Roger Baldwin. However, as the case becomes the symbol of a nation divided, two great Americans lock horns in the debate.
Pro-slavery President Martin Van Buren, seeking re-election, is willing to sacrifice the Africans to appease the South, as well as Queen Isabella of Spain. But his will is challenged by former President John Quincy Adams, who comes out of retirement to fight the Africans' cause in the United State Supreme Court.
| | |
| --- | --- |
| Director: | Steven Spielberg |
| Producer(s): | Colin Wilson, Steven Spielberg |
| Cast: | Austin Pendleton, Matthew McConaughey, Pete Postlethwaite, Nigel Hawthorne, David Paymer, Anthony Hopkins, Djimon Hounsou, Morgan Freeman, Anna Paquin, Tomas Milian, Stellan Skarsgard |