And If We All Lived Together?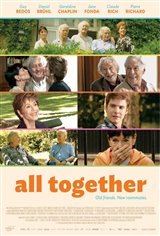 0 votes and 1 Reviews
Release Date:
September 28, 2012 - Limited
DVD: March 19, 2013
1h 36m | Comedy
---
Friends for over 40 years, Claude (Claude Rich) and Jeanne (Jane Fonda), now in their seventies, are forced to prepare for the worst. Claude, an inveterate womanizer with heart problems, may be placed in a retirement home by his son. Jeanne, who has cancer, hides the news from her family, as well as from her husband Albert (Pierre Richard), who's beginning to have memory problems.
They decide to move in with their friends, Jean (Guy Bedos), a former activist, and his wife Annie (Geraldine Chaplin), in their expansive home. Jeanne and Albert hire Dirk (Daniel Brühl), a young German anthropology student, to walk their dog. She manages to persuade Dirk to change his thesis to the habits of the elderly and invites him to come to live with them in order to study their habits.
---