Anne of Green Gables (2016)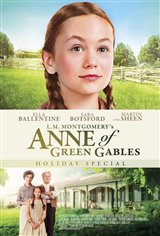 | 6 votes and 2 Reviews
Write a Review
| | |
| --- | --- |
| In theatres: | |
| Running time: | 1h 37m |
---
Anne Shirley (Ella Ballentine) has lived in an orphanage since losing her parents at a young age. When she gets the chance to be adopted by an elderly brother and sister living on a farm on Prince Edward Island, she's overjoyed.
It comes as a tragic shock to the little girl when she's told by the sister, Marilla Cutherbert (Sara Botsford) that they'd asked for a boy orphan to help her brother Matthew (Martin Sheen) with the farm work.
Expecting to be sent home, Anne is in the depths of despair, when it appears that Marilla might just have a change of heart when she sees what options lie ahead for Anne.
Canadian Connection: Filmed in the Greater Toronto area and Prince Edward Island using a mostly Canadian cast and crew.
---