April and the Extraordinary World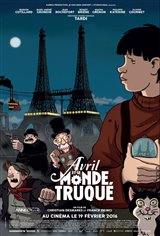 0 votes and 0 Reviews
Release Date:
DVD: August 2, 2016
1h 43m | Action, Adventure, Animation
---
In 1941, Napoleon V is the ruler of a France that's technologically behind the times but struggling to catch up. One by one, scientists are disappearing, including April's parents. April, left behind with her talking cat Darwin, searches for her parents, while carrying on their mission — to secretly create a serum that will make people immortal. However, Police Inspector Pizoni has vowed to get his hands on the serum.
April teams up with Julius, one of Pizoni's informants, and while searching for her parents, she discovers her grandfather, Pops, who was believed to be dead. Meanwhile, Darwin, treated with the serum, narrowly escapes death.
| | |
| --- | --- |
| Director: | Christian Desmares, Franck Ekinci |
| Studio: | Métropole Films Distribution |
| Producer(s): | Franck Ekinci, Marc Jousset, Michel Dutheil |
| Cast: | Marion Cotillard, Jean Rochefort, Philippe Katerine, Olivier Gourmet, Marc-André Grondin, Bouli Lanners |
| Writer(s): | Franck Ekinci, Benjamin Legrand |