Basic Instinct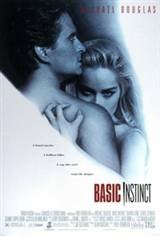 ---
This cold, stylish erotic-thriller grossed over $100 million at the box-office despite vigorous protests at its depiction of gays and women. The shocking opening sequence features a graphic sexual encounter involving a rock-star bound with a white Hermes scarf by an unidentified blond woman.
Despite the fact that the scene ends with a bloody icepick murder (horrifyingly realized by makeup artist Rob Bottin), Hermes scarves quickly sold out at stores nationwide.
This seeming paradox is at the heart of the film's appeal, as it mixes perverse sexuality and erotic bloodshed in a manner common to European thrillers (director Paul Verhoeven had done it himself in 1979's marvelous De Vierde Man) but mostly taboo in America.
The plot concerns Catherine Tramell (Sharon Stone), a successful bisexual mystery writer who may also be a ruthless murderer.
Everyone close to Catherine dies, and troubled policeman Nick Curran (Michael Douglas) must find out why. In the process, Nick becomes sexually involved with both Catherine and police psychiatrist Beth Gardner (Jeanne Tripplehorn), while the bodies begin piling up and Catherine turns the cat-and-mouse game around on Nick.
Verhoeven and screenwriter Joe Eszterhas -- who was paid $3 million for the script -- keep the tension ratcheted up throughout, even during the frequent sex scenes, which carry a violent edge reminiscent of the Italian thrillers of Dario Argento.
The film's most notorious scene, a police interrogation in which Catherine makes drooling idiots out of her captors by revealing that she is not wearing underwear, became a cultural touchstone and was widely imitated and parodied.
Sharon Stone, meanwhile, was embarrassed to the point that she claimed Verhoeven had aimed lights on strategic locations without her knowledge. George Dzundza and Dorothy Malone co-star.