Before You Know It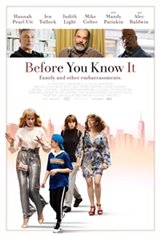 | 8 votes and 2 Reviews
Write a Review
Release Date:
September 20, 2019 - Toronto
1h 38m | Comedy
---
Stage manager Rachel Gurner (Hannah Pearl Utt) still lives in the apartment she grew up in, along with her actress sister, Jackie (Jen Tullock); eccentric playwright father Mel (Mandy Patinkin); and deadpan preteen niece Dodge (Oona Yaffe) above the tiny theatre they own and operate.
Level-headed Rachel is the only thing standing between her family and utter chaos. Then, in the wake of a sudden family tragedy, Rachel and Jackie learn their mother, whom they presumed to be dead, is actually alive and thriving as a soap-opera star. The sisters' already-precarious balance turns upside down, and they decide they want to meet her.
---