Big Muddy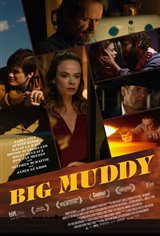 0 votes and 0 Reviews
Rotten Tomatoes® Score


57%

17%
In theatres:

May 8, 2015 - May 8, 2015 - Saskatoon<br />May 9, 2015 - Regina<br />May 15, 2015 - Calgary<br />May 22, 2015 - Vancouver<br />May 29, 2015 - Toronto
May 9, 2015 - May 8, 2015 - Saskatoon<br />May 9, 2015 - Regina<br />May 15, 2015 - Calgary<br />May 22, 2015 - Vancouver<br />May 29, 2015 - Toronto
May 15, 2015 - May 8, 2015 - Saskatoon<br />May 9, 2015 - Regina<br />May 15, 2015 - Calgary<br />May 22, 2015 - Vancouver<br />May 29, 2015 - Toronto
May 22, 2015 - May 8, 2015 - Saskatoon<br />May 9, 2015 - Regina<br />May 15, 2015 - Calgary<br />May 22, 2015 - Vancouver<br />May 29, 2015 - Toronto
May 29, 2015 - May 8, 2015 - Saskatoon<br />May 9, 2015 - Regina<br />May 15, 2015 - Calgary<br />May 22, 2015 - Vancouver<br />May 29, 2015 - Toronto

Running time:
1h 44m
Genre:
Drama, Horror, Western
---
Martha Barlow (Nadia Litz) has been living in seclusion for years with her teenage son, Andy (Justin Kelly). She has a dark personal history she'd rather not remember and more skeletons in her closet than she'd care to admit. After Andy commits a horrible crime, Martha must face her violent past in order to secure her son's future.
To do so, she has to dodge a sociopathic racehorse owner, reconcile with her estranged family, and try to reconcile with Andy's dangerous and long forgotten father.
Filmed in Saskatchewan with a Canadian cast and crew.
| | |
| --- | --- |
| Director: | Jefferson Moneo |
| Studio: | Union Pictures |
| Producer(s): | Bob Crowe, Coral Aiken, Jefferson Moneo, Wally Start |
| Cast: | Nadia Litz, Justin Kelly, Stephen McHattie, David La Haye, James Le Gros, Rossif Sutherland, Holly Deveaux |
| Writer(s): | Jefferson Moneo, Brian Paccione |
| Official Site: | unionpictures.ca/bigmuddy/ |
---