Boo, Bitch (Netflix)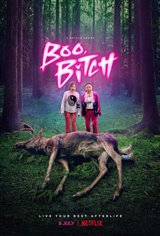 ---
BFFs Erika (Lana Condor) and Gia (Zoe Colletti) have been relatively unseen during their time at high school. While still a freshman, Erika was bullied by "cool girl" Riley (Aparna Brielle), and made sure to keep her nose down ever since.
When Gia gets Erika to volunteer to proof the yearbook during their senior year, she discovers to her horror that the name under her photo in the book is Helen Who. She finally decides to listen to Gia and begins to live her life. Erika has had a crush on Jake (Mason Versaw) ever since freshman year, and when they find out he's holding a party that night, they agree to attend.
They decide to say Yes to every opportunity given to them, which means they have more drinks than they've ever had. As they're walking home, a huge truck comes out of nowhere and hits a moose. The next thing Erika experiences is waking up in her bed. But there's a body under the moose, wearing her boots. Afraid she's now a ghost, Erika decides to live her best life — while she can.
| | |
| --- | --- |
| Studio: | Netflix |
| Producer(s): | Nellie Nugiel |
| Cast: | Lana Condor, Zoe Colletti, Mason Versaw, Apama Brielle, Tenzing Norgay Trainor |
| Writer(s): | Erin Ehrlich, Lauren Iungerich, Tim Schauer, Kuba Soltysiak |
| Official Site: | netflix.com/boobitch |
---