Branagh Theatre: The Winter's Tale - Encore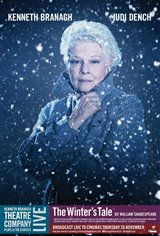 0 votes and 0 Reviews
Release Date:
December 4, 2019 - Expands
December 8, 2019 - Expands
2h 49m | Other
---
King Leontes appears to have everything: power, wealth, a loving family and friends. But sexual jealously sets in motion a chain of events with tragic consequences… Following a hugely successful run at London's Garrick Theatre and the record-breaking cinema broadcast, we are delighted to be bringing Kenneth Branagh's award-winning production of The Winter's Tale back to cinema screens for the 2019 festive season. Recorded live in 2015, Shakespeare's timeless tragicomedy of obsession and redemption is reimagined in a production co-directed by Rob Ashford and Kenneth Branagh, following their triumphant staging of Macbeth in Manchester and Manhattan. The Winter's Tale stars a remarkable group of actors, featuring Judi Dench as Paulina, alongside Tom Bateman (Florizel), Jessie Buckley (Perdita), Hadley Fraser (Polixenes), Miranda Raison (Hermione) and Kenneth Branagh as Leontes.