Buffalo '66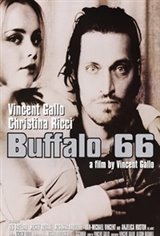 ---
It's winter and Billy (Vincent Gallo) has just been released after a five year prison stint into the bleak landscape of an industrial area outside of Buffalo. He heads home to his parents' house who don't know where he's been for the last five years. But he wants to return as the prodigal son who's been off on secret missions rather than the ex-con he is.
And he wants to return with a beautiful wife, so he abducts a young tap dancer (Christina Ricci) and forces her to play that wife. A powerful drama of modern alienation, Buffalo 66 propels Gallo into the front ranks of independent filmmaking -- although he has been doing his best to torpedo his career before it gets off the ground by acting rather high and mighty and, shall we say, a little full of himself.
Nonetheless, the film shines as a testimony to the independent spirit of filmmaking gone by.