Cape Fear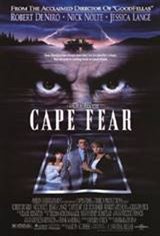 ---
Martin Scorsese's remake of Cape Fear provided the director with a box-office success to follow up the critical success of the previous year's Goodfellas. After serving a lengthy prison sentence for a sexual assault, Max Cady (Robert De Niro) comes calling on the man who served as his public defender, Sam Bowden (Nick Nolte).
Max begins a campaign of harassment against the man and his family because Bowden buried a report that would have in all likelihood acquitted Cady of the charges against him.
Bowden's shaky ethics continue in his personal life as he is considering beginning an extramarital affair with colleague Lori Davis (Illeana Douglas), since he and his wife, Leigh (Jessica Lange) have had a difficult time coming back together since he has admitted to previous indiscretions.
Cady infiltrates the family most insidiously by cultivating a relationship with the Bowden's troubled teenage daughte, Danielle (Juliette Lewis), who is all the more susceptible to Cady's advances because of her parents' problems. Robert Mitchum and Gregory Peck, the stars of the original film, have cameo appearances in this version of Cape Fear.
De Niro and Lewis were both nominated for Academy Awards for their work in the film.