Carlito's Way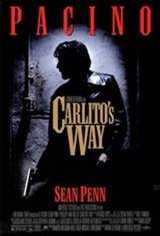 ---
Carlito's Way is a tale of a former hood trying to escape his former life. Al Pacino is Carlito Brigante, a high-level Puerto Rican drug dealer sprung from a three-decade jail sentence after only five years, thanks to a technicality and his sleazy, cocaine-addled lawyer, Dave Kleinfeld (Sean Penn).
Carlito renounces his previous ways and takes a job as the manager of a club that Kleinfeld has invested in, planning to save enough money so that he can eventually move to the Caribbean.
But no sooner is Carlito back on the streets of New York than his old life claws at him in the form of both old partners (Luis Guzman) and vicious up-and-comers (John Leguizamo).
Nevertheless, Carlito stays clean and even restarts his relationship with a dancer named Gail (Penelope Ann Miller), until he is finally led astray by Kleinfeld, who manipulates Carlito into participating in the murder of a Mafia don from whom Kleinfeld has stolen a million dollars.
At that point, the race is on to see whether Carlito and Gail can escape his world for good. The film is based on two novels about Carlito written by New York State judge Edwin Torres.