Catch That Kid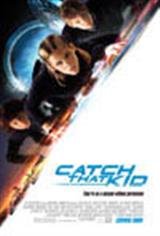 | 2422 votes and 76 Reviews
Write a Review
Release Date:
DVD: June 1, 2004
1h 32m | Action, Adventure, Comedy
---
Maddy (Kristen Stewart), 12, loves two things in life: climbing, and her dad (Sam Robards). Her father used to climb, but after a bad accident while climbing Mount Everest, he had to stop and has forbidden his daughter to climb as well. However, she ignores him and often climbs the town water tower.
When his longtime back injury resurfaces, he's paralyzed and ends up in the hospital. Their only hope is an expensive experimental surgery, but their insurance doesn't cover it. Maddy decides to get the money by robbing a bank that's having a new impregnable state-of-the-art safe designed by her mother (Jennifer Beals) installed, but it's not fully working yet, so Maddy enlists her two best friends, computer whiz Austin (Corbin Bleu) and mechanically-minded Gus (Max Thieriot), to help her put the plan in motion.
---