Cats & Dogs 3: Paws Unite!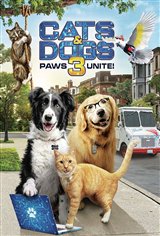 0 votes and 0 Reviews
DVD/Blu-ray: October 13, 2020
Digital: September 15, 2020
1h 24m | Action, Comedy, Family
---
Gwen the Cat (Melissa Rauch) and Roger the Dog (Max Greenfield) are secret agents who covertly protect and save the world without humans ever finding out. Their partnership is due to the creation of the Great Truce 10 years earlier, an elaborate joint-species surveillance system that has keeps the peace between cats and dogs.
But the long-standing peace is threatened when the supervillain Pablo the Parrot (George Lopez) discovers a way to manipulate wireless frequencies that only dogs and cats can hear. Will the heroes be able to stop the foul fowl, or will he cause a cat-a-strophe between the species?
---