Cobra Kai Premiere Event feat. The Karate Kid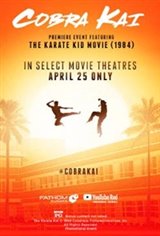 ---
Fathom Events and YouTube Red are bringing the original 1984 classic The Karate Kid back to the big screen for a one-night event on April 25 only. The event includes the first two episodes of the new YouTube Red series, Cobra Kai.
In The Karate Kid, Daniel (Ralph Macchio) moves to California and finds himself the target of bullies who study karate at the Cobra Kai dojo. Daniel befriends Mr. Miyagi, an unassuming repairman, a martial arts master himself. Cobra Kai features the return of two iconic characters. Daniel now leads an enviable life with his family.
Meanwhile, Johnny (William Zabka), whose life has taken a rocky turn, seeks redemption by reopening the infamous Cobra Kai karate dojo.