Coronavirus, Explained (Netflix)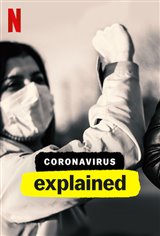 | 4 votes and 2 Reviews
Write a Review
| | |
| --- | --- |
| Netflix: | April 26, 2020 |
| Running time: | 25m |
---
This docuseries takes a look at coronavirus, where it began, how it spread and also compares it to epidemics from the past such as the Spanish Flu, Ebola, Smallpox and even measles.
Virus researchers knew another epidemic was coming, but weren't able to convince governments to take it seriously enough to put precautions in place. When the coronavirus broke out at a live animal market in China, it took weeks as the virus spread, first to other cities within China and then to other countries, for China to speak up and tell the world what was happening. Unaware of the seriousness of the outbreak, Spain and Italy didn't isolate immediately, and suffered severe losses. When the disease spread overseas, the United States didn't take it seriously and became the epicenter of the coronavirus pandemic.
In 1918, the Spanish Flu was believed to have started on a farm in Kansas. A chicken with a virus infected a pig and both were consumed by humans. It infected one in every three people on earth and killed anywhere from three to 20 percent of those infected.
St. Louis immediately shut down schools and public places, while Philadelphia went on ahead with a big parade that was scheduled. St. Louis death rates were in the thousands, while the death rates in Philadelphia were in the hundreds of thousands. After two months, St. Louis ended social distancing and experienced a spike in deaths, so the city quickly locked down again.
Smallpox killed 30 percent of people infected and was even more contagious. It killed people over the course of thousands of years — hundreds of millions in the 20th century alone, until a vaccine wiped out the disease in 1980.
COVID-19 is believed to have begun at a live market in China after a bat came into contact with a snake, which was then killed at the market and sold as food. Bats and other animals can carry viruses that don't affect them, but when they're spread to humans it can cause widespread disease. Many bats have been caught and tested on, in the hopes that scientists will be able to pinpoint the virus and develop a cure.
The second and third episodes in the series are expected to air sometime in summer 2020.
---