Daughter of the Wolf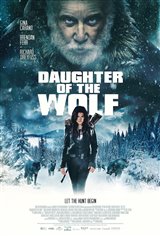 | 6 votes and 2 Reviews
Write a Review
| | |
| --- | --- |
| Prime Video: | February 25, 2021 |
| Running time: | 1h 28m |
---
Following the death of her father, military specialist Clair Hamilton (Gina Carano) returns from the Middle East to claim her inheritance only to find that her son has been kidnapped for ransom. She does as she's told, bringing a bag full of cash to give to the kidnappers, but is double-crossed, which leads to a shoot out. She shoots two of the men, but one escapes.
When she falls through ice in pursuit of the third man, whose name is Larsen (Brendan Fehr), he returns to pull her out of the ice, because he didn't know there would be a double cross and he didn't mean for anyone to be killed, before he leaves her. She regains her senses and goes after Larsen, forcing him to take her to the leader of the gang (Richard Dreyfuss), who has her son.
Canadian Connection : Filmed in West Kelowna, British Columbia.
---