Desperados (Netflix)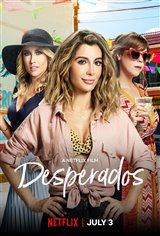 | 4 votes and 2 Reviews
Write a Review
| | |
| --- | --- |
| Netflix: | July 3, 2020 |
| Running time: | 1h 46m |
---
Each time Wesley (Nasim Pedrad) has a job interview, she inevitably talks too much and ruins her chances. Then she goes on a blind date and within five minutes — in which she doesn't realize she's insulted him and then goes on to talk how much she covets her girlfriend's husband — the guy decides to end the date.
She angrily walks out of the bar, but suddenly trips on the sidewalk, knocking herself out. When she comes to, a handsome young man named Jared Sterling (Robbie Amell) is there. He's retrieved her purse, which went flying into the street when she fell, and invites her to come to his place while she waits for her friends to come pick her up.
Because she's still groggy from her accident, she doesn't say much, and discovers Jared actually likes her. She tells her best friends, Brooke (Anna Camp) and Kaylie (Sarah Burns) that she's realized she needs to hide her personality from now on.
However, when she's dated Jared for a month, in which she pretends to like everything he likes, she doesn't hear from him for five days. After getting drunk with her friends, they all decide she should write him a nasty email to tell him what a jerk he is. Just as they're sending it, Jared calls from the hospital to tell her he's been in a coma in Mexico after getting in an accident and doesn't have access to his laptop or phone, because they're back in his hotel room.
Discovering that the email was successfully sent, Wes decides to go to Mexico with Brooke and Kayle, make her way into his hotel room and delete the email.
---