Die Hard with a Vengeance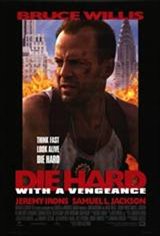 ---
Bruce Willis returns as misfit cop John McClane in the third film in the Die Hard series.
McClane has fallen on hard times; after moving to New York City and breaking up with his wife, he's developed a drinking problem and has been suspended from the NYPD. However, his past comes back to haunt him in the form of Simon (Jeremy Irons), a terrorist bomber who has been using McClane as his contact as he plants a series of bombs in public places and gives McClane inane clues to their whereabouts in the form of riddles and bizarre games.
McClane soon discovers he's been involved in Simon's scheme as part of a personal grudge; while associated with an international terrorist group, Simon is also the brother of the man McClane threw off the side of a skyscraper several years back (in the original Die Hard).
Now McClane, with the help of a Harlem shopkeeper named Zeus (Samuel L. Jackson), has to find out where Simon has planted the bombs, guess where he'll strike next, and try to find his base of operations before more bombs go off and thousands of people die.
The supporting cast features Graham Greene and Colleen Camp; singer Sam Phillips made her acting debut as a member of Simon's terrorist group (Phillips never speaks, so as to not to reveal her Texas accent).