Down to Earth with Zac Efron (Netflix)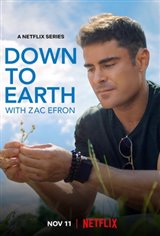 0 votes and 0 Reviews
Netflix:

November 11, 2022 - Down Under (Season 2)
July 10, 2020 - Season 1

Genre:
Documentary, Television
---
Zac Efron teams up with wellness expert Darin Olien to travel the globe and learn about sustainable living. They visit countries and cities such as France, Puerto Rico, Iceland, London and many more to see how locals are living and taking action to create a more sustainable Earth.
Trying local food and customs along the way, Zac and Darien meet with top eco-innovators to see how we can do our part to save the world.
In Season 2, titled Down to Earth with Zac Efron: Down Under, Zac and Darien take an eye-opening adventure across Australia, delving into its rich biodiversity and culture — and the efforts to protect both.
---