Extract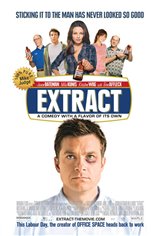 | 65 votes and 15 Reviews
Write a Review
Rotten Tomatoes® Score


62%

38%
| | |
| --- | --- |
| In theatres: | |
| On DVD: | December 22, 2009 |
| Running time: | 1h 31m |
---
To the outside eye, Joel Reynold (Jason Bateman) seems to have everything. After all, being the owner of a business he built from the ground up—with its patented brand of culinary extracts—should make the "Extract King" a happy man. However, if Joel hasn't reached his front door by 8 o'clock, he'll find his wife, Suzie (Kristen Wiig) cinching up her sweatpants—and about as interested in him as he is in her mastery of supermarket coupon design.
Sexually frustrated, Joel confides in his best pal, Dean (Ben Affleck), a barkeep—and soon finds himself wrapped up in a convoluted scheme to make Suzie cheat on him first with a dim-witted gigolo (Dustin Milligan)—thereby allowing him to pursue beautiful new employee Cindy (Mila Kunis) with a clear conscience. Unbeknownst to Joel, the object of his affections is a con artist/sociopath—just one step away from having her parole revoked.
Meanwhile, Joel and his second-in-command, Brian (J.K. Simmons) have entered negotiations for a buyout of Reynold Extracts by General Mills. All they need to do is keep things tidy, quiet and moving while waiting for the final offer. Of course, this fails to take into account the employees on the factory floor: Step (Clifton Collins, Jr.), a machismo-ridden doofus and self-proclaimed "fastest sorter" with lofty aspirations of rising to Floor Manager; Rory (T.J. Miller), a goth-rock geek who spends more time passing out flyers for his band than shuffling extract bottles; and Mary (Beth Grant), a fanny-packed, bitter slouch at the end of the assembly line who'd rather fold her arms and shake her head than keep life at Reynold moving along—which is exactly what she's doing when a bottleneck occurs on the line, resulting in a chain of accidents that cost poor Step a portion of his manhood.
Seeing a big payday, the con-artist temp woos the otherwise-loyal Step, convincing him to sue for millions, engaging bus bench lawyer Joe Adler (Gene Simmons) to "fight for his rights"—regardless of the fact that doing so will cost Joel the factory.
| | |
| --- | --- |
| Director: | Mike Judge |
| Studio: | Maple Pictures |
| Producer(s): | Michael Rotenberg, John Altschuler |
| Cast: | Jason Bateman, Mila Kunis, Kristen Wiig, Ben Affleck, J.K. Simmons, Clifton Collins, Jr., Dustin Milligan, David Koechner, Beth Grant, T.J. Miller, Gene Simmons, Matt Schulze, Brent Briscoe |
| Writer(s): | Mike Judge |
| Official Site: | www.extract-the-movie.com |
---