Fantastic Four (2005)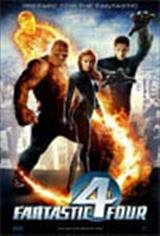 | 4074 votes and 226 Reviews
Write a Review
Release Date:
DVD: December 6, 2005
1h 45m | Action/Adventure, Sci-Fi/Fantasy
---
Exposed to cosmic radiation during a space mission, inventor, astronaut and scientist Reed Richards, his ex-girlfriend Susan Storm, and pilots Ben Grimm and Johnny Storm, are torn apart and reformed atom-by-atom. Soon after they return to Earth, they each manifest fantastic superpowers. Richards can stretch his body to inhuman lengths; Susan Storm can become invisible and create force fields; her brother Johnny Storm can ignite his body into living flame and soar through the air; and Ben Grimm's human features have been erased - now he wears the rocky form of a super-strong, invulnerable 'thing'. Outsiders to the human race, the group remain together and try to stop a madman named Dr. Doom who wants to reshape the world into his own twisted image.
Canadian Connection: Partly filmed in British Columbia, Canada
---