Far From Heaven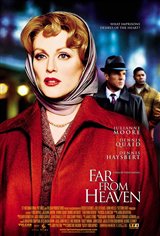 | 365 votes and 10 Reviews
Write a Review
Release Date:
DVD: April 1, 2003
Netflix: April 1, 2020
1h 47m | Drama
---
It is the fall of 1957 in Hartford, Connecticut, and Cathy Whitaker (Moore) is returning home from a day of errands. Her husband, Frank (Quaid), who heads the local branch of the Magnatech TV sales company, is expected home for a dinner engagement. As Sybil, their maid, helps Cathy unload the car, David and Janice, the Whitaker children, are told to hurry inside and prepare for dinner. There's only one problem: neither Cathy nor Sybil has heard from Mr. Whitaker all afternoon.

What begins as a curiously un-ironic snapshot of 1950s American values is soon transformed into a tangle of competing conflicts, igniting Cathy's friendships with her formidable gardener, Raymond (Haysbert), her plucky best friends (Clarkson), and maid, Sybil (Davis). As secrets are revealed, Cathy is faced with choices that spur hatred and gossip within the community. She comes to recognize her own desires, even as, in the process, she has to give up the object of them.
---