Film Stars Don't Die in Liverpool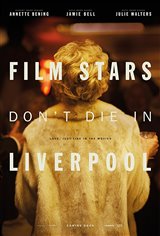 | 4 votes and 2 Reviews
Write a Review
Release Date:
January 26, 2018 - Toronto
February 9, 2018 - Montréal
DVD/Blu-ray: April 24, 2018
Digital: April 24, 2018
1h 45m | Drama
---
Oscar-winning American actress Gloria Grahame (Annette Bening) moves to the North of England when movie roles for her dry up in Hollywood. Married and divorced four times, with four children to support, she gets work in dinner theater type shows in Britain.
She meets a young actor named Peter Turner (Jamie Bell), and despite the difference in their ages, a romance develops between the two.
Based on the memoir of the same name by Peter Turner.
---