First Kill (Netflix)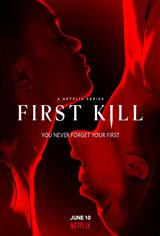 ---
Falling in love is tricky for teens Juliette (Sarah Catherine Hook) and Calliope (Imani Lewis): One's a vampire, the other's a vampire hunter — and both are ready to make their first kill.
The offspring of rival families, the pair cannot deny the feelings they share — despite the costs.
Based on a book by V.E. Schwab.
---