Flicka 2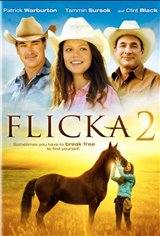 ---
Carrie McLaughlin (Tammin Sursok) is a teenager living in a big city with her grandmother after her mother died. When her grandmother falls ill, against her will Carrie has to go to Wyoming to live with her father, Hank (Patrick Warburton), on a horse ranch.
But things begin to change when she meets Flicka, a free spirited and strong willed mustang. They form a special bond and she slowly begins to open her heart to her father and a handsome, local boy named Jake (Reilly Dolman). When a jealous rival puts Flicka's life in jeopardy, Carrie must do whatever it takes to save her.
Based on the book by Mary O'Hara.
Canadian Connection : Filmed in British Columbia. Several cast members are Canadian, including Reilly Dolman and Lorne Cardinal.
| | |
| --- | --- |
| Director: | Michael Damian |
| Producer(s): | Connie Dolphin |
| Cast: | Tammin Sursok, Patrick Warburton, Clint Black, Emily Tennant, Lorne Cardinal, Reilly Dolman, Ted Whittall |
| Writer(s): | Jennifer Robinson |