Flirting With Disaster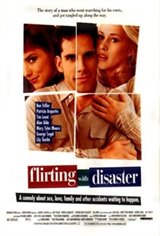 ---
In this satirical comedy, Mel Coplin (Ben Stiller) has a beautiful wife, Nancy (Patricia Arquette), and a four-month old son, and on the surface his life is good.
But something's been troubling him: Mel knows he was adopted, and he can't resolve his issues with the mother who gave him away years ago, much to the annoyance of his adoptive parents (George Segal and Mary Tyler Moore).
Mel decides it's time he met his birth parents and resolved his feelings once and for all, and Tina (Tea Leoni), a psychology student, has offered to tag along to capture the event on video for a research project.
But after a few minutes with Mel's real mother, they discover that a mistake has been made and they've been directed to the wrong person. A second meeting, this time with Mel's supposed dad, also turns out to be a mistake, and it's quite some time before Mel, Nancy, and Tina are finally face to face with Mel's biological parents -- a pair of burned-out hippies (played by Alan Alda and Lily Tomlin) who support themselves by dealing blotter acid daubed onto pictures of Ronald Reagan.
It doesn't help that Mel finds himself attracted to the very leggy Tina, or that Nancy's head is turned by a bisexual ATF agent (Josh Brolin). Writer/director David O. Russell previously made a splash with his independent debut feature, 1994's Spanking the Monkey.