Four Lions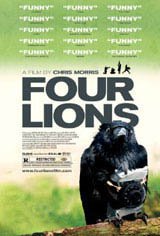 ---
In a British city, four men have a secret plan. Omar (Riz Ahmed) is outraged by the treatment of Muslims around the world and is determined to become a soldier. Waj (Kayvan Novak) thinks this is the most exciting thing he's ever heard. And anyway, it's a no brainer because Omar always does his thinking for him.
However, white Islamic convert Barry (Nigel Lindsay) is opposed to Omar (and everyone else on earth). He joined the cell mainly to express his nihilism. Faisal (Adeel Akhtar) can make a bomb—but he can't blow himself up because his dad is sick and has "started eating newspaper." So instead, he's training crows to fly bombs through windows. Omar cannot believe he has to deal with these three losers.
The four inept wannabe terrorists want to make a statement on their own turf, but first they have to figure out how to light a match without hurting themselves.
| | |
| --- | --- |
| Director: | Christopher Morris |
| Studio: | Entertainment One |
| Producer(s): | Derrin Schlesinger, Mark Herbert |
| Cast: | Riz Ahmed, Arsher Ali, Nigel Lindsay, Kayvan Novak, Adeel Akhtar, Julia Davies |
| Writer(s): | Chris Morris, Jesse Armstrong, Sam Bain |
| Official Site: | www.fourlionsthemovie.com |
---