Friday the 13th, Part VI: Jason Lives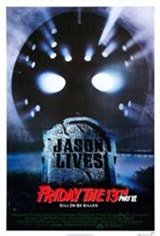 | 8 votes and 2 Reviews
Write a Review
Action/Adventure, Horror, Thriller
---
This impressive entry in the popular horror series brings back the relentless killer Jason Voorhees, this time as a supernatural zombie. Tommy Jarvis, now played by Thom Matthews, accidentally resurrects Jason when he impales the killer's corpse with a metal pole during a lightning storm.
Numerous murders follow, beginning with Tommy's friend (Ron Palillo) having his heart torn out of his chest by the zombie killer. Implicated in the crimes by a mean-spirited sheriff (David Kagen), Tommy is freed from jail by the sheriff's daughter, spunky Megan (Jennifer Cooke).
The cast converges on Camp Crystal Lake, which has been renamed Camp Forest Green by superstitious locals, in time for Tommy to send Jason back to the bottom of the lake, if only temporarily. Harry Manfredini's score is among his best, and the makeup by Martin Becker, Gabe Bartalos, R. Chris Biggs, and others is outstanding.
Cooke makes an appealing heroine as Megan, although Matthews' Tommy has lost the interesting mental disturbances of previous entries and becomes just another bland hero. Tom McLoughlin's direction is effective, and the film has a memorably funny supporting turn by Bob Larkin as a grumpy drunken caretaker.
Alice Cooper sings the title song, He's Back (The Man Behind the Mask). Although no classic, this is a solid horror film with a witty script and engaging characters. Jason would rise again to face a telekinetic teen in the disappointing Friday the 13th, Part VII: The New Blood.