GravyTrain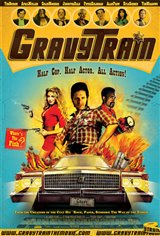 0 votes and 0 Reviews
| | |
| --- | --- |
| In theatres: | |
| On DVD: | May 18, 2010 |
| Running time: | 1h 24m |
---
Gypsy Creek's #1 cop Charles Gravytrain believes in Truth, Justice and revenging his Pop's death by slapping the no good crook Jimmy Fish Eyes in the slammer for life! And with the help of his foxy partner, hot shot cop, Miss Uma Booma, he may do just that.
But after the dynamic duo get framed and reeled in to star in avant-garde Filmmaker Hansel Suppledick's latest Snuff film things get real fishy, real fast. Will Chuck and Uma bust the case wide open or will Fish Eyes turn Gypsy Creek into a town permanently "Gone Fishin'?!"
Hop on board the GravyTrain and get ready for some stinky secrets and slippery surprises in this all out eccentric comedy that will constantly keep you guessing, "Where's the Fish?"
Canadian Connection: Filmed in Niagara Falls, Ontario with a mostly Canadian cast and crew.
| | |
| --- | --- |
| Director: | April Mullen |
| Studio: | Alliance Films/Tossin' Gravy Productions |
| Producer(s): | April Mullen, Tim Doiron |
| Cast: | Tim Doiron, April Mullen, Tim Meadows, Colin Mochrie, Jennifer Dale, Kyle Schmid, Alan Frew, A.C. Peterson, Peter Keleghan, Ryan Tilley, Chris Baker, Melissa Jane-Shaw, Peter Pasyk, Melissa-Lynn Dozois, Mitchell Nye |
| Writer(s): | Tim Doiron |
| Official Site: | www.gravytrainthemovie.com |
---