Great Directors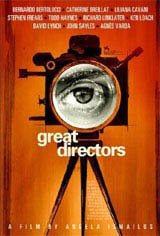 0 votes and 0 Reviews
Release Date:
October 22, 2010 - Limited
DVD: November 8, 2011
1h 26m | Documentary
---
New York filmmaker Angela Ismailos interviewed 10 world class filmmakers: Bernardo Bertolucci, David Lynch, Stephen Frears, Agnes Varda, Ken Loach, Liliana Cavani, Todd Haynes, Catherine Breillat, Richard Linklater and John Sayles. These interviews are more than mere chronicles of Ismailos' encounters with 10 remarkable men and women.
Extensively illuminated by clips and historical archive materials from the subjects' work, they also reveal the distinctive personalities who created the timeless images that have long inspired Ismailos—and all of us. Ismailos explores each director's artistic evolution, the role of politics and history on their work; their feelings about other great directors who inspired them and the agony and ecstasy of being an artist in a medium that is, paradoxically, also an industry.